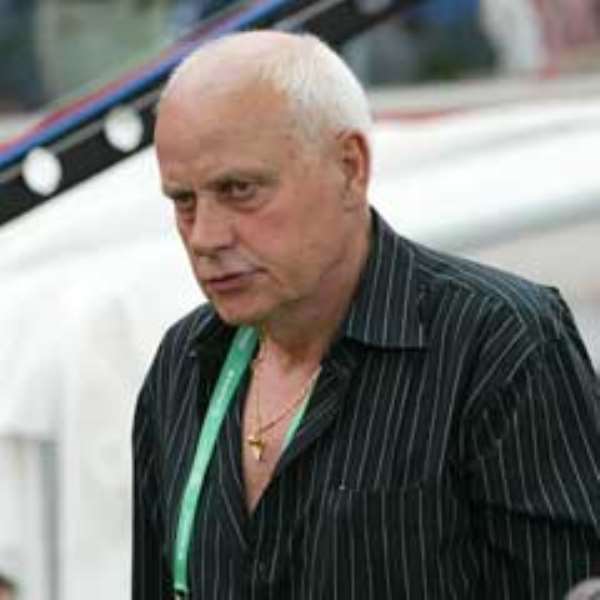 Togo coach Otto Pfister refused to comment on his resignation from and subsequent return to the Hawks helm following their 2-1 World Cup Group F loss to South Korea on Wednesday.
However, it does seem like the Togo coach will now be in charge of the side for the remainder of the 2006 Fifa World Cup.
Pfister was on the bench as Togo put up a brave show on Wednesday, taking the lead before being reduced to ten men and finally succumbing to Dick Advocaat's side.
Togo's performance was a stark contrast to late last night, when the team appeared in disarray and the
only coach Togo had, was their means of transport, a bus decorated in colourful irony.
"A passion to win and a thirst to succeed" was the team slogan, emblazoned across the side of the bus.
Pfister walked out on the team on Friday, after a player row with the Togo Football Association over bonuses.
By Monday, he was announcing his return, only for this to be denied by Togo's sports minister Agouta Ouyenga, who denied Pfister was back in charge, saying Mawuena would remain as coach for what would was likely to be the duration of Togo's stay at the tournament.
When pressed for comment after the South Korea game, all Pfiseter would offer was "no comment," though he was prepared to discuss the game itself.
"I believe the match didn't show a major difference between the two teams," he said, adding that the red card, for captain Jean Paul Abalo, changed the game.
"We got a grip of the Koreans speed and led 1-0, but then there was a professional foul and a red card. That made it difficult. Also, if you don't take your chances, you lose," he added in reference to several opportunities squandered by his team.
"But I am looking forward to the next match."
Match Report
It looked so good for Togo after the first 45 minutes but second half goals from Lee Chun Soo and Ahn Jung Hwan gave Korea a come from behind victory over the Hawks.
After their turbulent build-up, it seemed as if Togo were on a hiding to nothing, but, once out on the field, they certainly didn't have the look of a team whose coach had walked out and then been rehired within a matter of days.
The opening half hour of the match suggested that this clash would be something of a cure for insomnia, as neither team looked particularly incisive or energetic.
Mohamed Kader looked the most lively player on the pitch and he struck a rising volley
over the goals of Lee Woon Jae from a tight angle on 11 minutes. The Togolese forward was never likely to score from the chance, but it signaled what was to come from the Hawks' number 17.
In the 31st minute he latched onto a fairly innocuous looking through ball and blitzed past the Korean defence with a scintillating burst of pace. He then drilled a low shot past Lee that rebounded in off the base of the goalkeeper's right-hand upright to give Togo a shock lead. It was truly a goal out of nothing and Kader's predatory instincts must be highly praised.
Korea pushed forward in reply but they rarely troubled Kossi Agassa. Indeed, it was Korea's 'keeper at the other end of the field who had to produce a great save just minutes before the break from Yoa Junior Senaya's curling free-kick.
The turning point of the game came just 8 minutes into the second half when Jean-Paul Abalo was sent off for his second caution after bringing down Park Ji Sung on the edge of the box.
Lee Chun Soo scored direct from the free-kick with a curling shot that Agassa could – and should – have done more to stop.
Ahn Jung Hwan, a surprise exclusion from Dick Advocaat's starting XI, scored the winner in the 72nd minute with a long range shot that swerved and looped over Agassa, breaking Togolese hearts but delighting the mass of Taeguk Warriors fans in the stands at Frankfurt.
Another ultimately disappointing performance from one of Africa's representatives at Germany 2006, but Togo certainly didn't embarrass themselves, as many thought they would.