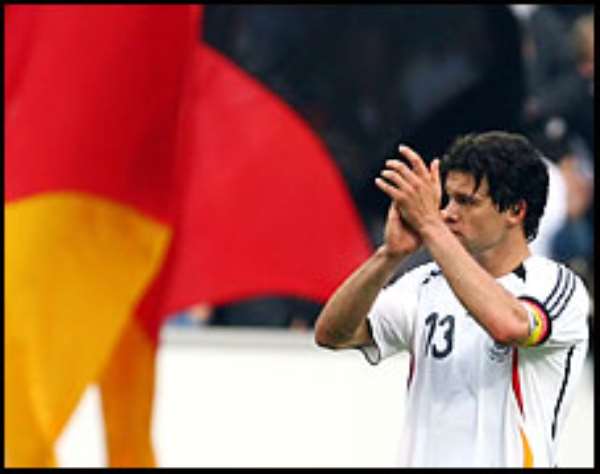 With 3 World Cup titles to their name, Germany need never feel inferior to any football nation and they will relish the chance to play on home soil during the 2006 World Cup. As hosts, they were the only automatic qualifiers although this means that their young team has experienced little truly competitive international football in the last 2 years.
The class of 2006 will be hoping to emulate the heroics of Fritz Walter's 1954 team that defeated the seemingly invincible Hungarians, Franz Beckenbauer's 1974 title winning team that defeated Johan Cruyff's Netherlands (in the last World Cup finals to have been hosted on German soil) and Lothar Mattheus's 1990 World Champions.
Their coach is the unorthodox and slightly madcap Jurgen Klinsmann who was known as much for his very un-German eccentricities as his goal scoring brilliance during his illustrious playing career. He knows what it takes to win a major tournament, having been a key member of the German squads that triumphed in the 1990 World Cup and Euro '96. To say that Klinsmann is yet to win over his critics in his homeland is a massive understatement. He has been criticised for living in the USA while being the coach of the Nationalmannshaft and his insistence on blooding talented but inexperienced youngsters has given the German team an exciting but slightly brittle look that doesn't sit well with a predominantly conservative football fraternity.
Their game breaker is undoubtedly the awesome Michael Ballack whose exploits for the national team mean a Superman outfit would be more appropriate than the black and white kit of his teammates. His young sidekicks, in the form of Bastian Schweinsteiger and Lucas Podolski, are potential world beaters but it is Chelsea's midfield signing who will need to haul the Germans to an unlikely World Cup glory.
Star Players
Michael Ballack
Germany's number 13 almost single-handedly dragged the Nationalmannshaft to the final of the 2002 World Cup, although he was forced to miss the final with Brazil through suspension. Such was the form that Ballack was in, that things could have been very different in that match had Ballack played. Tall, powerful and blessed with the ability to play in almost any position, it is no wonder that Jose Mourinho was so delighted to secure the services of Germany's ace midfielder for Chelsea. Opinion of him is divided in his homeland, but beyond German borders Ballack is not just respected: he is feared.
Jens Lehmann
Arsenal's eccentric stopper has enjoyed his best season in London since joining the Gunners in 2003 and has even surpassed the usually brick-wall-like Oliver Kahn for the Nationalmannshaft's number 1 jersey. The two volatile 'keepers aren't the best of friends and Klinsmann's clumsy approach to choosing his preferred shot stopper certainly didn't help matters, although Kahn has graciously accepted his demotion to the bench. Lehmann was outstanding behind a young Arsenal defence that performed so heroically in the Champions League, and a similarly youthful German backline will need him to perform a comparable feat at the World Cup.

Lucas Podolski
Born in Poland but very much a favourite with the German supporters, Podolski is Germany's young striking hope. He is likely to be teamed with Miroslav Klose (another born in Poland) and the youngster's pace, energy and fearless play should compliment his more mature partner well. Three goals at the Confederations Cup helped Germany to a semifinal place and it his talents (along with fellow youngsters Bastian Schweinsteiger and Robert Huth) have lifted the previously downcast spirits of Germany's football public. Perhaps Germany 2006 is too big a step, too soon for Podolski, but he is definitely a star for the future.