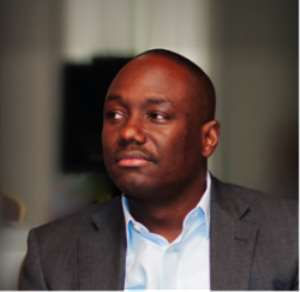 Michael Amankwa
Michael Amankwa ('99) returned home to Ghana and set up CoreNett Limited, which provides technologically advanced financial services and enhances the lives of people living in many African countries.
After graduation, alumni from the College of Business take their skills and knowledge to many different places. Michael Amankwa ('99) went farther than most.
After graduating from JMU with a Bachelor of Business Administration degree in accounting and completing his Master of Science degree in information technology and telecommunication systems at the Johns Hopkins University, Amankwa spent a few years at Booz Allen Hamilton before returning to his home country, Ghana, in 2005.
"I believe Africa has a lot to offer to the rest of the world and I definitely have a key role to play in telling the African story," said Amankwa.
There he set up CoreNett Limited, a transactions processing management company that provides cutting edge solutions to retailers, governments and other institutions for processing electronic transactions. Amankwa carries out all executive functions for CoreNett Limited, which has become a multinational company.
Enhancing Africa one technological service at a time
CoreNett offers many innovative services including, but not limited to, branchless banking, a social networking platform for consumers and enterprisers, and technology allowing users to access financial services without having to step foot inside a building.
The experiences he gained at JMU and in America prepared Amankwa to return home and help enhance not just Ghana, but all of Africa. He recalls many professors and courses, specifically those in computer information systems, programming and business administration impacting him and preparing him for his career.
On running his own company, Amankwa says he enjoys the ability to follow his visions and lead his team toward success. He stresses the importance of giving credit to everyone who works hard to improve the company, rather than taking it all for himself.
As for CoreNett itself, the future is bright. As the company continues to enter multiple markets throughout Africa, it is headed toward touching the lives of millions worldwide by enhancing technology and making it easier to "transact, create wealth, and socially connect."
Helping families become financially stable
One family in particular has been impacted significantly thanks to the technological advancements of CoreNett. Rashidatu relocated to Accra, Ghana, in 2009 with hopes of providing a steady income to her family, which was facing economic troubles. With seven siblings and parents who didn't have a stable income, she hoped to make a solid income and improve the quality of life for her family.
After Rashidatu started making a steady income, she attempted to send money home to her family. However, she found that the banks in Ghana were complicated and tried to charge her large transfer fees for sending money.
Finally, Rashidatu heard about CoreNett's Mobile Money service, which allows her to save a portion of her income each day on her Mobile Money wallet. At the end of each month, she can securely send the savings to her family directly from that wallet. Once the transfer is complete, her family simply walks to the nearest ATM and retrieves the money.
Previously, there was a gap between people who could afford complicated banking services in Ghana and those who, like Rashidatu and her family, could not. Now, thanks to CoreNett's innovative service, she can support herself and her family in a safe and user-friendly manner.
Advice for current students
Amankwa advises current business students to study hard and persevere when it gets tough. "See challenges as opportunities, learn from failures, and believe in yourself. If others have done it, you can equally do it and do it better."
By following his own advice, Amankwa continues to contribute to the African story while "innovating and tackling the challenges of modern day society," an aspect of his job that he finds to be most rewarding.
By Alix Carlin (Communication studies, '14)