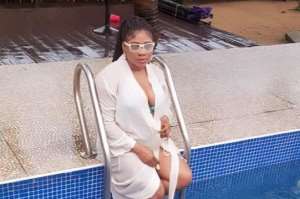 Just the way some students are on vacation, same thing goes for some Nigerian entertainers as some have taken out time to pamper their skin like Nollywod actress, Agbor Queeneth.
Queeneth is one of the many actresses that still has hopes in the home made movies as she has had a blossom career spanning several years.
Since she was recently free to relax herself, the actress decided to hang out with her friend at the swimming pool as she slayed I her bikini outfit.