6 March 2018
|
Nollywood Media
Actor, John Dumelo Explains why He loves giving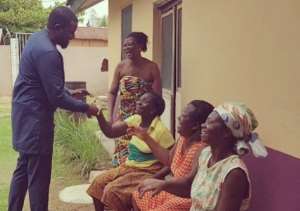 Ghanaian actor cum entrepreneur, John Dumelo, is one actor that has been silently enjoying God's blessings which has been overflowing in his home.
The actor has been doing well when it comes to acting and he has also began reaping the dividend of his investments not because he is good at his business but because God has been good to him.
John is one actor who is always ready to give and also show support and his heart of giving has really taken him far that God has not stopped blessing him.
Recently, he took out time from his busy schedule to go visit people who are struggling in the ociety as he tried in his little way to put smiles on their faces.
According to him, "I learnt to give not because I have plenty but because I know how it feels to have nothing."
Contracts awarded to the sister-in-law has raised questions of conflict of interest.
Advertized