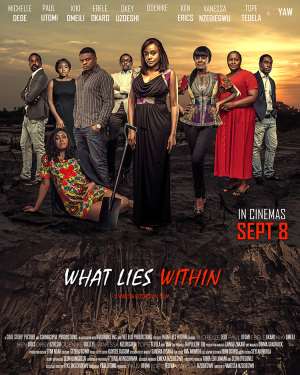 Nollywood actors Paul Utomi, Tope Tedela Vanessa Nzediegwu are set to leave a big mark on the silver screen with a suspense-filled romantic drama thriller, What Lies Within.
The young and talented filmmakers have previously excelled with Tedela's acting in Slow Country winning Best Actor in African Magic Viewers' Choice Award (AMVCA) while Nzediegwu and Utomi have both show classin Mnet Productions, Edge Of Paradise and Hush, respectively.
What Lies Withinis the brilliant product of the hardwork of A Cool Story Picture, Cornucopia Productions, VeeBlu Productions and Kukuruku Inc.
The soon-to-be-released flick chronicles 24 hours in the lives of two women as they are thrust into the centre of an incident that could have far reaching consequences on their lives and loves ones. The movie touches on themes of trauma, betrayal and domestic violence.
What Lies Within is directed by Vanessa Nzediegwu and it features an ensemble cast of Michelle Dede, Kiki Omeili, Paul Utomi, Ken Erics Ugo, Okey Uzoeshi, Tope Tedela, Vanessa Nzediegwu, Odenike, Ebele Okaro and Yaw.
Ahead of its anticipated release in Cinemas on September 8, a colourful premiere to be attended by the crème de la crème is planned to hold on Thursday, August 31st.
Speaking about the movie, Vanessa, Director revealed, "Making What Lies Within wasn't easy but directing it was quite an experience. We tried to tell a simple and enjoyable story that explores quite a few themes and we hope people find it interesting."
"It was a scary and exhilarating experience making this film and I'm really glad that the film will be out soon for everyone to see," added co-producer Utomi.
Social Media
Twitter - @WhatLiesWithinM
Instagram - @whatlieswithinmovie
Facebook - https://www.facebook.com/WhatLiesWithinMovie/