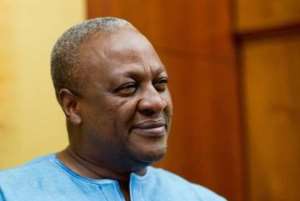 If, indeed, there are 22 Districts in Ghana that have absolutely no hospitals, whatsoever, as Health Minister Kwaku Agyeman-Manu maintains, then where is the evidence pointing to the alleged fact of former President John Dramani Mahama's having constructed healthcare facilities in virtually every nook and cranny across the country, as Mahama surrogates like Messrs. Samuel Okudzeto-Ablakwa, Samuel George Nartey, Samuel Ofosu-Ampofo and Kwabena Mintah Akandoh, among dozens of others, are claiming? (See "22 New Hospitals Underway Before 88 Announced – Health Minister" DailyGuideNetwork.com / Ghanaweb.com 4/29/20).
You see, what the National Democratic Congress' propagandists seem to be clearly afraid of is the fact that their self-tickling lies have been widely exposed for the veritable hoax that they indisputable are. The last time that the Mills-Mahama Posse wanted to construct mere bungalows and flats or apartment buildings, Little Dramani had to lead a delegation to South Korea to contract a foreign company to do so. It was the dumbest delegation that any Ghanaian leader has ever led in living memory. As I have always said, the IK Acheampong-led National Redemption Council (NRC) and, subsequently, the Supreme Military Council (SMC-1) juntas built more public housing in the country than any other government within the fleeting temporal space of six years, including the Kwame Nkrumah-led Convention People's Party (CPP).
But, of course, if you are a regular reader of my columns, Dear Reader, you ought to be fully aware, by now, that yours truly is far less interested in numbers and statistics than he is uncompromisingly interested in the functional quality and efficiency of such infrastructural facilities. Which is why I have always been far less impressed with the much-touted healthcare infrastructural record, so-called, of the head of the previous regime. I have noted this in a previous column that I wrote and published just within the last 24 hours; but let me reiterate the same here, once more, that the sheer number of available hospital buildings in the country is far less significant to me than the fact of whether the ordinary Ghanaian citizen for whom these facilities were allegedly built can afford to readily access the same, because the very government that prefers to brag about the number of hospitals it has raised up or built from scratch has not been able to make these hospitals accessible to the ordinary Ghanaian worker and citizen, because of its gross administrative negligence and incompetence which has resulted in the effective bankrupting of the John Agyekum-Kufuor-founded and established National Health Insurance Scheme (NHIS).
I will more fully touch on this subject in one of my future columns, which is that in the wake of the announcement by both President Addo Dankwa Akufo-Addo and the Health Minister, Mr. Kwaku Agyeman-Manu, that the construction of some 94 hospitals, including 6 regional hospitals for the newly created regions, was in the works, some red flags immediately went up, with some members of the Ghana Medical Association (GMA) expressing great worry and some misgivings that there would not be an adequate number of doctors and other healthcare professionals or providers to manage these new hospitals, which are to be built all across the country within the next twelve months. This is a very significant issue that the government needs to take a critical look at. It is also rather ironic because in the recent past, we were being told that the hiring capacity, largely a salary-related issue, was what was the foremost problem in the medical and allied health services, especially where the hiring of newly graduated nurses and lab technicians and therapists was concerned.
What the foregoing means is that more medical training facilities may need to be built alongside of the planned 94 hospitals, each of which, we are informed, would be equipped with 100 beds; naturally, the already existing medical training schools and colleges would have to be expanded and where necessary, significantly upgraded. In the short term, some very good, hardworking and experienced nurses could be officially encouraged to retrain and/or upgrade the levels of their skills to that of either Nurse Practitioners or Nurse-Midwife Practitioners and Dental Healthcare Nurses and Hygienists, as has been done and is still routinely done in many developing countries across the globe. The real problem, as I have been made to appreciate the same by some of my medical expert high school classmates, is not necessarily that we don't have an adequate number of medical doctors; it is almost invariably that we do not adequately train our doctors at home in the specialist areas, such as neurosurgery, orthopedic surgery, renal surgery and dozens of other medical specialties, primarily due to a woeful lack of medical tools and state-of-the-art medical practice equipment which, in effect, boils down a lack of adequate investment by our successive governments.
You see, until very recently and, I am afraid the situation may pretty much be the same even presently, we did not train enough medical specialists at home, especially under the protracted tandem tenures of the Jerry John Rawlings-led Provisional National Defense Council (PNDC) junta and the "democratically elected" National Democratic Congress' regime. You see, the faux-populist and consumerist-oriented Rawlings Posse preferred to import Cuban doctors than significantly invest in the training of our own doctors and medical specialists right here at home. Our leaders also preferred to invest stolen taxpayer money in their offshore private bank accounts. Our leaders are simply not caring enough to recognize the imperative need to invest in the training of medical specialists, aside from general practitioners, which is why most complicated illnesses requiring advanced surgical procedures have to still be referred abroad to countries like South Africa and India.
This irresponsible leadership climate needs to promptly and radically change, as the cost involved in flying a patient abroad for medical treatment, as well as importing foreign doctors who are not provided with the requisite tools to effectively perform their specialized trades, is so prohibitive that only the very well- to-do are able to afford such medical luxury.
*Visit my blog at: kwameokoampaahoofe.wordpress.com Ghanaffairs
By Kwame Okoampa-Ahoofe, Jr., PhD
English Department, SUNY-Nassau
Garden City, New York
April 29, 2020
E-mail: [email protected]