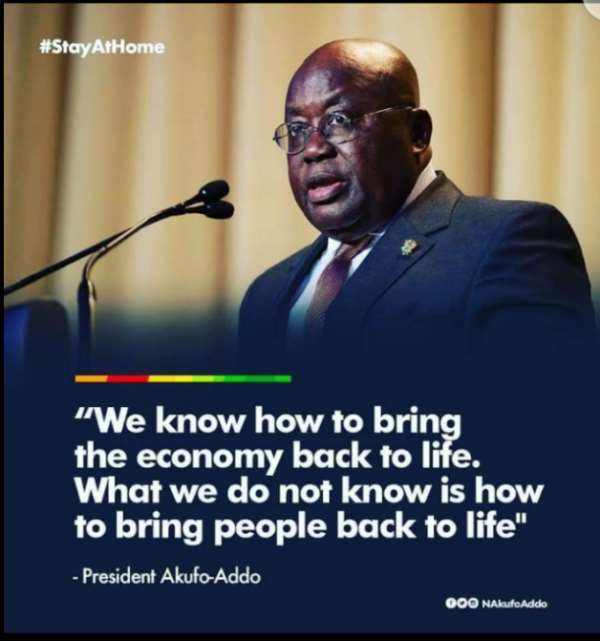 Wisdom is knowing what to do next,skill is knowing how to do it and virtue is doing it. Leadership they say is an action not a position. ("Susua antie ne aboa onwam atik)p)"
Many well-meaning Ghanaians were shocked to the bones once again when against all popular opinion the President of the land lifted the partial lockdown in Accra, Kumasi and its environs.
We were stunned when he gave a very feeble and inconsistent reason for lifting the ban. Were we not told
"We know how to bring the economy back to life but what we do not is how to bring people back to life"
Looking at the sudden upsurge in the spread many envisaged that the Number one gentleman of the land will further extend the lockdown. We were therefore taken aback with the sudden u-turn by the President.
History has it that in 1918 Philadelphia prematurely ended its quarantine from the Spanish flu to throw a parade in order to boost morale for the war.
4500 citizens died from the flu or its complications.
"Those who cannot learn from the past are condemned to repeat it".
The only reason our President gave for the lifting of the ban is for the poor and vulnerable to resume work to earn a living. You can deliberately distort facts to suit your whims and caprices but not at the expense of human lives. What happened to the stimulus package announced by the President earlier?
The strategy of the government is becoming too predictable drown out inconvenient facts with noise and well-calculated propaganda.
The premature announcement by the President coincides with a heated, unrepentant and brazen desire by the EC to undertake its entrenched position to compile a new register regardless of the consequences.
Tongues are wagging. Is it the priority of the President to compile a new register at the expense of our lives?
Did our President actually think through this decision?
What will be the value if I lose my life in the course of searching for my daily bread?
Regrettably, this decision comes at a time the WHO is projecting dire consequences for the continent.
We have also taken notice of the impending primaries by the NPP.
If this also forms part of the invisible magical reasons then Ghana we are in wrong hands
We wish to call on the GMA and other allied agencies to rise up speak against this politically motivated decision.
We can't lose our precious lives for Akuffo Addo to continue to hang on to power
Ghana is indeed in a quagmire and needs a redeemer.
Dauda Murtalib Moukaizil
Acting Constituency communication officer