GM crops catch China's fancy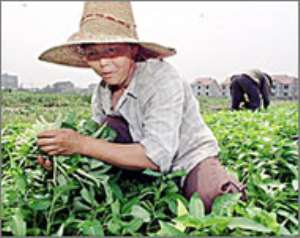 China is on course to lead the world in the development of genetically modified crops despite a recent announcement by Greenpeace that potentially unsafe GM rice has been illegally sold in China for over two years.
Seen as a panacea to the problem of feeding a growing population, and an opportunity to boost the country's biotech industry at a time when Western companies are restrained by unfavourable public opinion, China appears to be embracing the new science.
While doubts continue to be voiced by an alliance of government officials, scientists and environmental lobbyists like Greenpeace, the Ministry of Agriculture has said it will this year announce whether or not to grant the world's first licence for the commercial growing of GM rice.
The expectation is that they will say "yes".
"It has already been approved by the National Biosafety Committee after extensive field trials and I am confident that it is quite safe as there is no evidence to show that the gene added has any negative effects. We are just waiting for the Ministry to agree," Lu Baorong, an adviser on bio-safety, told Aljazeera.net.
Positive spin-off
Disease resistant, the new rice could enter the food chain by 2006, and supporters say it will boost yields and protect farmers who currently apply toxic fertilisers to the crops by hand.
Exact figures on its effects tend to differ dramatically.
Quoted in the China Daily, the head of a super hybrid rice scheme said that GM rice would boost China's rice output by 30 billion kg a year, enough to feed 70 million more people. Critics say that such high yields are unlikely.
Estimate figures on total dollar investment in China's biotechnology sector vary from tens of millions to hundreds of millions, with the government appearing to provide the majority.
Observers agree though that the figure is continuing to increase and there are now at least 30 institutes conducting research into GM.
New species
Researchers have created some unusual species, ranging from super size carp that have had a human growth hormone added, potatoes that stimulate the production of Hepatitis B antibodies in the immune system, and fruit that is unaffected by frost.
Scientists are also creating trees that will grow quicker and taller than normal, and grasses that can survive without water for use against encroaching desertification.
At present, China permits the planting of GM cotton and also imports GM soya beans from the US. Neither of these, however, is used for human consumption.
"I think we need more time for risk assessment," says Xue Dayuan, the chief scientist behind China's 1998 law on national bio-safety. "Its long term impact on the environment, biodiversity and human health is still unknown."
Citing tests done on pest-resistant GM cotton in China, Xue says that what is happening is that the pests are themselves developing resistance to the GM strain.
"Scientists will need to keep developing new varieties to combat the pests, but it is inevitable that they will become harder to beat," Xue said.
The same he said is true of disease-resistant strains.
Mixed reaction
But consumer confidence is mixed regarding GM. Unlike in Europe where people remain suspicious of so-called Frankenfoods, many surveys conducted in China show a general ignorance among the population about GM.
A recent announcement by Greenpeace could change this.
Acting after reading an article in Newsweek magazine that quoted a scientist in the central province of Hubei as saying that GM rice was being illegally sold to farmers, Greenpeace travelled to the province to conduct its own investigation.
Taking samples from local wholesalers, Greenpeace found traces of GM rice in 19 out of 25 samples tested. Called Bt Shanyou 63, Greenpeace said the rice was identical to a strain being developed at the nearby Huazhong Agricultural University in the city of Wuhan, though they stopped short of directly implicating the university in its findings.
Farmers they interviewed said they had been growing the rice for over two years and Greenpeace estimate that last year 950-1200 tonnes of GM rice was sold, adding that given the small amount, it was unlikely to have reached the export market.
According to Greenpeace, though, one of the toxins produced in the rice could have the potential to cause allergenic reactions in humans.
In 2004 China exported rice to 19 countries, including neighbouring Japan and South Korea as well most of the EU.
The Hubei government has announced it has launched an investigation.
"While not having a direct impact on the development of biotechnology, this report will damage consumer confidence," Xue, the scientist, said.
The impact the Hubei-episode would have on GM's prospects in China is still unclear. In any case, it is the market that will have the final say.