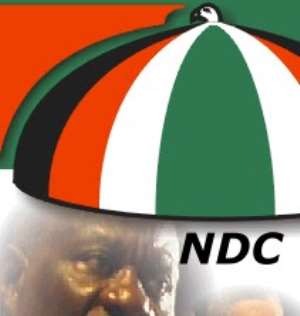 As the new executives of the main opposition party, the National Democratic Party overly and covertly began coaxing its resigned members to come back home, the party's former Ashanti Regional Chairman, Ntim Fordjour, has ridiculed the moves and stated it would be over his dead body to rejoin his former party.
Mr. Fordjour who reencountered the Koforidua episodes violence and humiliation visited upon some of the membership, said, "It would be over my dead body to join the NDC. I have never dreamt of that and I will not dream of it. It is a mischievous work by the NDC members to create an impression that they are wooing its resigned members back into their fold," he said.
Making this declaration in a telephone interview with this paper, he stressed further, "I am not prepared to go back to the NDC. I am not going today or tomorrow. Maybe it's a dirty propaganda piece by the NDC to give hope to its members."
Confirming that he has been approached by party members to rescind his decision of quitting the NDC, Mr. Fordjour said, the party might have realised that he was a force to reckon with, hence their move coupled with reports that he wanted to stage a come back.
"I was grateful to them for realizing their mistakes when they came to me twice.
Quizzed about his new political direction, he said, "As at now, I am a member of the Democratic Freedom Party. We have been going round to look for our founding members across the country. We have already picked our registration forms from the Electoral Commission.
Asked about the NDC's vehicle retrieved from him by the Regional Chairman, Mr. Daniel Ohene Agyekum, he stated that because he was currently engaged in gathering founding members of the DFP, he had decided to let it rest, saying at the appropriate time. Mr. Agyekum would tell him whether the vehicle belongs to the party or not.
Explaining how the vehicle was taken from him, Mr. Fordjour, also a founding
member of DFP, a party spearheaded by the former national chairman of the NDC, Dr. Yao Obed Asamoah, refused to disclose this to the paper whether the car was the property of NDC or his personal property.
"For now, I have nothing to say but at the appropriate time, he would tell me whether the car belongs to them", he said.