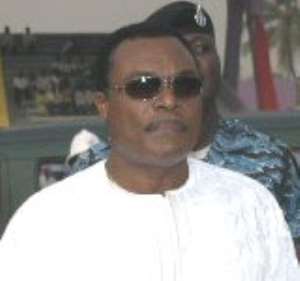 The Committee set up to review the salaries and allowances of health professionals and other workers rushed in coming out with its conclusions, Courage Quashigah, Minister of Health, has said.
Consequently, the Ministry has asked the committee to make a "clinical appraisal" of some of its decisions to ensure the outcomes capable of standing the test of time.
Major Quashigah, who was speaking at this year's celebration of International Nurses' Day in Accra on Friday, said that this is necessary to promote a healthy working relationship among staff and ensure quality health delivery.
The Minister's call comes against the backdrop of last month's strike by non-doctor professional staff-including pharmacists, laboratory technicians and nurses-to protest inequalities in the new salary structure for health workers.
The strike crippled health care delivery as only doctors were at post in most of the public hospitals.
The health service workers group called for a review of the salary structure maintaining that their salary levels were far lower than those of the doctors.
Major Quashigah assured health workers of the government's commitment to making life bearable for them and all other workers.
He said the Ministry had instituted national awards for health workers beginning from November this year which would consolidate the various awards at different levels within the sector.
However, Major Quashigah said, health is a fundamental right of the citizenry and it behooves health professionals to sacrifice for the sake of providing quality and affordable health care.
He urged nurses to ensure that patient care needs are met and in hazard-free working conditions.