200 Feared Dead in Nigeria Oil Blast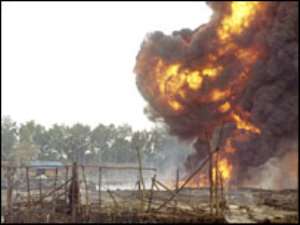 A ruptured pipeline exploded Friday in southwestern Nigeria as villagers rushed to collect oil gushing from it and a local TV station said up to 200 people were feared dead.
Firefighters were on the scene of the explosion at Ilado, a village about 25 miles east of Nigeria's main city of Lagos, and Red Cross workers were helping survivors.
"There was a big fire and quite a number of people died," Red Cross spokeswoman Okon Umoh said without elaborating.
The blast came as villagers flocked to the ruptured conduit to scoop up fuel that was gushing out. Up to 200 may have perished in the explosion, according to Nigeria's Channels Television.
Nigeria is Africa's leading oil producer, the world's seventh-biggest exporter and fifth-biggest source of U.S. oil imports.
Thieves often steal heavily subsidized fuel from pipelines for personal use or to sell across borders where prices are higher.
In 1998, more than 1,000 villagers died when a ruptured gasoline pipeline exploded as they scavenged fuel.