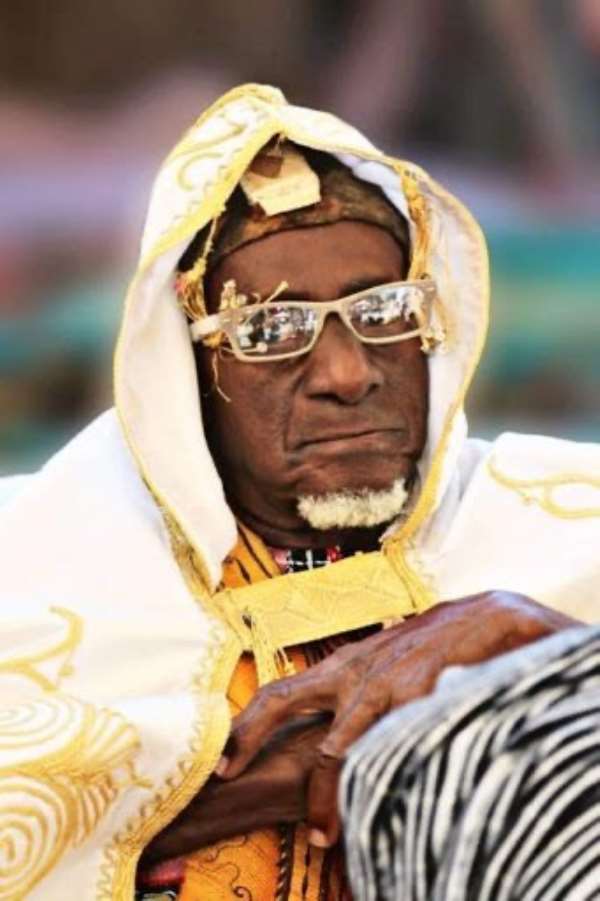 The Overlord of the Gonja Kingdom, His Royal Majesty Yagbonwura Tutumba Boresa I, has supported the Intensive Care Unit (ICU) of the Tamale Teaching Hospital with a 39 inch Flat Screen Television and its accessories.
The Paramount Chief of the Kusawgu Traditional Area, KusawguWura Kunkraga I, who made the donation on behalf of the overlord commended the hospital for its professionalism and dedicated service to Northern Ghana over the years.
He disclosed that Yagbonwura appreciates the kind service of the staff of the facility and is urging them to keep up the good work in the interest of humanity.
The Overlord further presented an undisclosed amount of money and two woven Gonja smocks to Dr.Hisyovi Cardenas Suri in recognition of his hardwork and dedication to duty.
Madam Sofia Twiaku, who is in charge of the Intensive Care Unit, receiving the items on behalf of the hospital expressed gratitude to the king for the kind gesture.
She disclosed that,the donation was made in fulfilment of a pledge the overlord made to the hospital whilst on admission.
"Our grandfather the King was at this facility and on the day of his discharge from the unit, he asked us what he can do especially for the unit to really show his appreciation. The unit requested for a flat-screen Television set," she disclosed.
She promised the facility was going to put the special gift into good use for the benefit of the entire unit and clients.
The Tamale Teaching Hospital, located in Tamale, the Northern Regional capital of the Republic serves as a referral hospital for the five regions in Northern Ghana.
It cooperates with the University for Development Studies to offer undergraduate and graduate programs in medicine, nursing and nutrition and is the third teaching hospital in Ghana after the Korlebu Teaching Hospital and the Komfo Anokye Teaching Hospital.
Formerly known as the Tamale Regional Hospital, it was established in the year 1974, to provide various health care services to the people of the then three regions in the North namely: the Northern Region, Upper East Region and Upper West Region.
In the year 2005, the Northern Regional Coordinating Council decided to partner with the Ghana Health Service to upgrade the hospital to the status of a Teaching Hospital.
The upgrade made the Hospital the third teaching hospital in the country capable of training health professionals from the University for Development Studies.
The mandate of the Hospital is set by Act 525 of the Ghana Health Service and Teaching Hospital Act of 1996. The stipulation of the mandate empowers the Hospital to function in three critical areas namely: the provision of advanced clinical health services, supporting the training of undergraduates and postgraduates in medical sciences and finally, undertaking research into health issues for the purpose of improving health care.