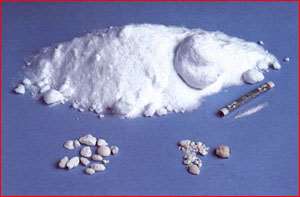 Two persons have been sentenced to a total of 25 years imprisonment by the Greater Accra Regional Tribunal for illegally dealing in cocaine. Francis Kwadwo Asamoah, 24, a Ghanaian, was sentenced to 15 years while William Odion Osagiede, a Nigerian, was also jailed 10 years.
Asamoah was convicted on two counts of attempted exportation of narcotic drug without licence by the Minister of Health and possession of narcotic drug without authority. He pleaded not guilty to the charges when he was first arraigned but changed his plea to guilty and was accordingly convicted on his own plea.
According to the facts of his case, Asamoah was said to have arrived at the Kotoka International Airport on March 13, 2005 to go through departure formalities enroute to Madrid, Spain, via Amsterdam. At the last checkpoint the security men on duty conducted a search and found that Asamoah had concealed 99 pellets of the drug in the pair of socks he was wearing.
He admitted ownership and mentioned one James, a Nigerian resident in Spain, as the person who introduced him to the drug business. Asamoah was said to have told the security personnel that James, after purchasing air ticket for him, asked that he come to Ghana to meet one Roberto in Accra for the drugs and he would be paid $2,500 as his courier fee.
Roberto accommodated Asamoah and gave him the drugs to swallow, but since Asamoah could not swallow them, he concealed them in the socks he was wearing. When the 99 pellets were taken to the Ghana Standards Board for examination, they were found to be cocaine, with a weight of 994.4472 grams. In the case of the Nigerian, he, on the first day of his arraignment, pleaded guilty to illegally possessing 60 pellets of the drug and was accordingly convicted and sentenced.
The facts of his case were that Osagiede, who was based in Spain, arrived at the airport on April 9, 2005 to go through departure formalities to board a flight to Spain. He was picked by Narcotics Control Board officials on suspicion that he was carrying narcotic drugs on him and during interrogation he admitted having swallowed 60 pellets of the substance.
Under supervision he expelled the 60 pellets which were sent to the Ghana Standards Board for examination, the results of which proved that they were cocaine with a weight of 598.6248 grams.