'Go On Your Knees And Ask God For Forgiveness' — Ghanaian Evangelist In Canada Challenges Rev. Owusu Bempah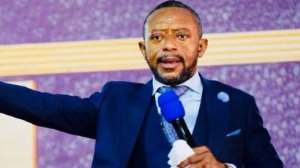 A Ghanaian domiciled in Canada, Isaac Osei Annor, has asked Reverend Owusu Bempah, the Nation's Prophet and Founder of Glorious Word Power Ministry International, to go on his knees and ask God for forgiveness.
He also asked him to apologise to Ghanaians and his church members for using the name of God in vain to make false prophecies
According to him, Reverend Owusu Bempah needs to reconcile with God because His favour has left him.
This follows a series of prophecies Owusu Bempah had made which failed to materialised.
"Among those prophecies was that the Chief Imam of Ghana was going to die, Former President Kufuor and many others would die. These prophecies were made on December 31st, 2018. Owusu Bempah, also said if the National Cathedral was not completed, in 2019 the President and his vice would die.
"All these show that Reverend Owusu Bempah is not a true man of God," he stated.
The Evangelist further accused Rev Owusu Bempah of dealing with occults. He alleged that the Rev Minister's dealings with a certain Ghanaian, called Avraham Ben Moshe, who is not Christian, exposes him Owusu Bempah, as someone who does not believe in God and His Saviour son Jesus Christ.
He said confessions from Avraham Moshe, who believes in homiletics, claim that he, Rev Owusu Bempah, had been coaching the said Avraham Moshe on how to capitalise on the name Jesus to make money.
Avraham Moshe said the Reverend Minister allegedly told him that after he had succeeded in using his idea, they should share the booty in the ratio- 60% to 40% with the lion's share going to him, Rev Owusu Bempah. But Avraham refused thus creating enmity between them.
Subsequently, Rev Owusu Bempah is said to have warned Avraham to desist from using Jesus' name to perform again or else he will curse or beat him up."So they are using the name of God in vain- it's for business," Isaac.revealed.
Source: The Punch Newspaper
Email:[email protected]