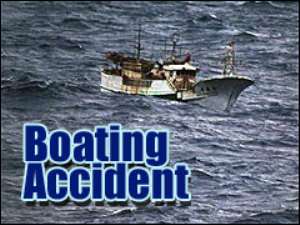 ... 9 bodies found ACCRA, Ghana - Rescuers said Tuesday they believed they would find no more survivors after an overloaded boat carrying some 150 people sank on a Ghana lake over the weekend, and were now turning to the grim task of recovering bodies - perhaps as many as 100.
"We believe strongly that there are no more survivors" of Saturday's accident, rescue team leader Emmanuel Egbenyo said. He said the rescue team has found nine bodies so far, three of them children, and plans to send in divers to retrieve the remaining bodies.
Egbenyo said the actual number of survivors may be higher than the 40 known, as some passengers may have returned to their families without registering with authorities.
The motorboat was carrying passengers across the vast Lake Volta - the world's largest artificial lake - when it struck a submerged tree trunk and sank, police said.
In Africa, a vast continent with poor road and rail systems, river or ocean routes are used to transport goods to market, and many Africans rely on often rickety vessels. Few captains keep proper passenger manifests and the exact death tolls from many accidents are never known.
Some 1,863 died when the MS Joola capsized off the coast of Senegal in 2002, a more deadly accident than the Titanic. Only about 60 people survived.