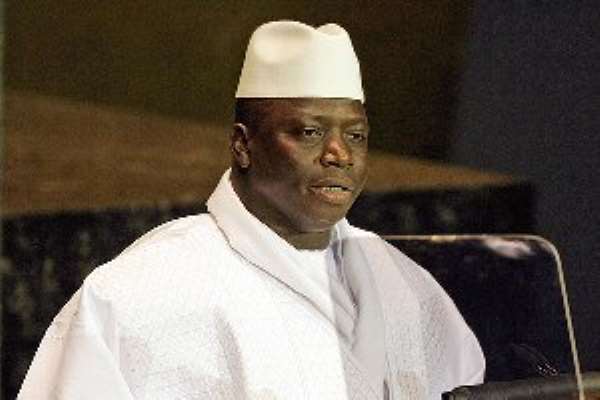 Yahya Jammeh
How quickly did time fly.
When I wrote this article three years ago today, former. Zimbabwe's President Robert Mugabe (now deceased) was as solid as rock in the presidential palace. He obviously, showed no signs of relinquishing power.
Today, January 2020, some of the characters I named in the piece are still in office--grabbing straws. But for how long?
The ego of a kite or balloon knows no stop until it's brought down by the same squall that gave him an elevation in the first place. So, be reminded that a balloon cannot fly on its own until that rubber sac is inflated with air, then sealed at the neck and let loose.
Once upon a time, a little boy had his kite unfastened. Moments later he noticed the object had wandered miles away from him.
He cried for help, tried to catch it but the light frame object with thin material continued to soar. It'd stretched its pace floating in the wind, meandering courses, diving in the clouds -from east to west, his eyes tailed the kite as he continued to sob.
After a fruitless attempt, the little boy stood still and watched his tiny kite flaunt its weight and ego as it flew high up in the skies. There was a moment the boy thought the reunion with his toy was imminent.
Indeed he wanted his kite back. But the object had faked its descent only to be seen going higher and higher and it ducked in the clouds. As hours morphed into days the boy forgot about the kite and minded his own business. But not long afterward the kite's glory faded.
They say, what goes around comes around. The kite came down but not the same way it had been seen bouncing around --in midair. It'd run out of power, no steam, and no vim. Bottom line it'd reached its endpoint.
Did you know that five of the current African leaders combined have ruled their respective countries for nearly 200 years (168 years to be precise) since 1979?
Here are the five Africa's longest-serving leaders: Teodoro Obiang Nguema, Equatorial Guinea (36yrs), Jose Eduardo dos Santos, Angola (36yrs), Robert Mugabe (Grand Papa) of Zimbabwe 35years, Uganda's Yoweri Museveni 29 years and Paul Biya of Cameroon 32 years.
The longest, Mr. Nguema born June 5, 1942, has been President of the central African nation since 1979. He ousted his own uncle Francisco Marcias Nguema, in an August 1979 military coup.
Without doubt it is this kind of egocentric attitude by some African heads of state that influenced the likes of Gambian dictator Yahya Jammeh who took his people for a ride for 22 years. And also thought he could make the Gambia throne his personal asset---and make it a father to son one day.
Thank goodness Gambians have had a new president.
Thank goodness Jammeh had banished himself.
"Agyewodin, wo'agye wani so'.
What were you thinking?
Did you think I was kidding?
I told you the people had had enough of you. I told you, you wouldn't have it easy if you chose the Kabila path. But thank Allah that things didn't go the other way. So go in peace with your stolen booty but I can assure you Gambians will come after you soon.Don't sleep too much.
On Friday 2 December 2016 Jammeh was defeated by Adama Barrow and conceded defeat. But a week later he challenged the election results at the Supreme Court.
He also declared a state of emergency ahead of the deadline given to him to leave office on Thursday 19 January 2017.
I don't really know if the action had been triggered by the resignation of some of his key cabinet ministers—i.e. finance foreign affairs and environment in his government. And it appeared he wasn't going anywhere any longer.
However, pressure had been mounted on him by the Economic Community of West Africa States (ECOWAS), the Africa Union (AU) and the United Nations (UN) to cede power to his challenger in the December polls Mr. Barrow.
Midnight Wednesday 18 January 2017, when ECOWAS realized that Jammeh wasn't ceding power it deployed its troops into the tiny West-African country. The regional group had spent weeks working to convince Jammeh to accept the election results. He still wouldn't budge.
But what perhaps broke the camel's back was when it became obvious that he'd lost one of his final allies, Gambia's military.
"I shall not involve my soldiers in a stupid fight," said Gambian army Chief General Ousman Badjie.
At a press briefing on Saturday morning, General Badjie said he recognized Mr. Barrow as his commander-in-chief and not Jammeh.
And courtesy of Guinean President Alpha Conde Jammeh had sought temporal exile in Guinea. O' ye coward who warned you to flee from the wrath to come, I thought you'd hard balls and would choose to stay on just as Muammar Gadhafi in Libya did.
You thought you could fool your people forever and ever. Well, the same Allah who you claimed gave you the power to rule had spoken through the Gambian people.
And I don't know who you were addressing —bragging 'as a Muslim and a patriot I believe it is not necessary that a single drop of blood is shed."
Have you forgotten many had perished under your regime? Brace yourself to face the International Court of Justice tomorrow, for crime against humanity.
I can assure you that it will also happen live. It's all a matter of time.
In the early hours on Saturday Jammeh went on television telling Gambians how he served the nation and loved its people.
"I have decided to relinquish in good conscience, the mantle of leadership of this great nation."
Who takes you seriously again Jammeh?
Wall Street Journal reported that: "Until his plane left the tarmac at Banjul airport on Saturday evening many Gambians were still questioning whether his rule was over."
Also, reports had it that the deal that was reached on Saturday shielded Jammeh his family and supporters from prosecution and protects his assets from being seized. He also would be allowed to return to Gambia 'at any time of his choosing," according to a statement from ECOWAS the African Union and the United Nations.
But Barrow's administration said it was not satisfied with the terms secured by Jammeh and even cast doubt on whether it intended to respect them.
"That is the perspective from that side," Hallifa Sallah, a spokesman for Mr. Barrow's coalition said.
This is a lesson we should all heed.
Some of us have behaviours that mimic Jammeh, Museveni, Mugabe and many more.