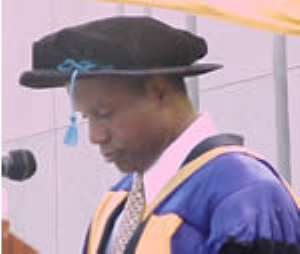 .... planted his daughter at accounts department ... takes over ¢8m/month as salary surplus ... and ¢8.5m/month as responsibility allowance. ... spends ¢250 million on X'mas hampers Lecturers at the Kwame Nkrumah University of Science and Technology (KNUST) are dissatisfied with the administration of Vice Chancellor, Prof Kwesi Andam, describing his tenure of office as the most difficult times in the university's history.
According to the Enquirer newspaper, Prof Andam is only interested in the welfare of his cronies on campus at the expense of the collective interest of all the lecturers.
"KNUST spent ¢250million on hampers during the last Christmas, this is happening at a time lecturers who even need loans cannot get it from campus, but would have to go to the open market with a lot of interest.
My brother the Vice Chancellor has planted his daughter at the accounts section of the school's administration so that his emoluments can be well taken care of, whilst the lecturers are suffering," a lecturer said.
A source at the finance office told the Enquirer that the VC's daughter spent most of her time outside the office; she takes permission to go for a wedding in London, take permission for private businesses in Accra and spent 20 days outside office.
This is what another lecturer told the enquirer: "We have a student population of over 19000 and each student pays ¢2000 per semester, but only God knows what this money is used for."
Some senior lecturers who interacted with the Enquirer said Prof Andam had gone to a bank, ECOBANK to take a loan of ¢10billion for projects on campus paying so much interest when the money could be raised from the school.
The Enquirer has also learnt that the VC after resigning from STRESSCON, an engineering consultancy firm handling all the construction works on campus, turned around and went to the wife of a former partner, Mr Kussah, a native of Prampram who died some 7 weeks ago to demand ¢750,000,000.00 from the widow as monies owed him.
The lecturers allege that whilst Vice Chancellors at the Universities of Legon and Cape Coast do not receive extra allowances apart from their salaries, Prof Andam alone take over ¢8,000,000.00 every month as salary surplus and again another ¢8.5,000,000 as responsibility allowance.
Lecturers take a little over ¢3,000,000 as net salary, senior lecturers receive almost ¢4,000,000 whilst Associate Professors and full Professors earn almost ¢5,000,000.
The VC recently came under a lot of attack for bending the rules to enable him extend his term of office beyond 2006 academic year when he is due for retirement.
But his ploy could not materialize because the University Council rejected the attempt at the university's council meeting held on March 31,2006.