Damen To Hold More Technical Seminars In Nigeria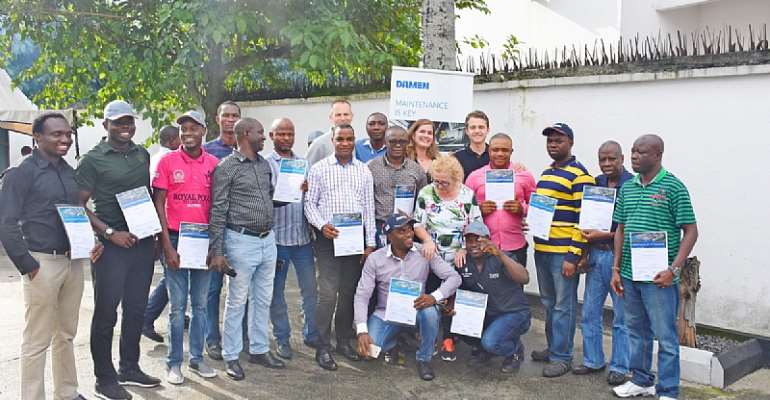 Following the success of the Technical Seminars that it introduced in Nigeria in 2019, Damen Shipyards Group will this year hold another series of events. With the three-day long, intensive training events, Damen aims to provide its clients in the region with a better understanding of their vessels, with the goal, ultimately of optimising their efficiency of operations. However, the value of the seminars is clear and Damen now sees them as a potential vehicle for the transfer of skills and knowledge that could help develop the country's own maritime and energy services industries.
During 2019, alongside on-board familiarisation and basic maintenance training provided for almost all vessels delivered to Nigeria, Damen held three Technical Seminars in Nigeria. At each of the events, a Damen supplier was invited to present technical information and practical assignments to delegates regarding their contribution to Damen's vessels.
Last year, Damen was supported in the delivery of the Training Seminars by Caterpillar, Alphatron and GEA Westfalia. Participants gained insights into their vessels that facilitated a greater level of trouble shooting and problem-solving and maintenance skills – optimising operation and minimising downtime and, therefore, the costs of operation.
This year, the Technical Seminars will feature Heinen and Hopman (17th-19th March), presenting on their ventilation and air-conditioning (HVAC) systems. This seminar will be followed by further events with Caterpillar (23rd-25th June) and Alphatron (13th-15th October). The seminars will be held, as previously, at the Nestoil Training Centre in Port Harcourt, itself built by Damen.
A Damen representative said: "We have seen how successful these events have been in transmitting knowledge and skills and enabling participants to share their own insights. Participants can also raise their very specific questions and discuss detailed technical subjects directly with the suppliers. As a result of this, we are broadening our aims with the seminars we will deliver in the future. Going forward, we will use the seminars as a platform to facilitate knowledge and skills transfer to the vessel owners and operators in order to play our part in the development of sustainable Nigerian maritime services and oil & gas industries that will be of benefit to the country and region. As we have done in other areas in which we operate, Damen is seeking, in alignment with Nigeria's own local content goals, to maximise Nigerian participation in its own marine services and energy industries."
Damen Shipyards Group
Damen Shipyards Group operates 36 shipbuilding and repair yards, employing 12,000 people worldwide. Damen has delivered more than 6,500 vessels in more than 100 countries and delivers around 175 vessels annually to customers worldwide. Based on its unique, standardised ship-design concept Damen is able to guarantee consistent quality.
Damen's focus on standardisation, modular construction and keeping vessels in stock leads to short delivery times, low 'total cost of ownership', high resale values and reliable performance. Furthermore, Damen vessels are based on thorough R&D and proven technology.
Damen offers a wide range of products, including tugs, workboats, naval and patrol vessels, high speed craft, cargo vessels, dredgers, vessels for the offshore industry, ferries, pontoons and superyachts.
For nearly all vessel types Damen offers a broad range of services, including maintenance, spare parts delivery, training and the transfer of (shipbuilding) know-how. Damen also offers a variety of marine components, such as nozzles, rudders, winches, anchors, anchor chains and steel works.
Damen Shiprepair & Conversion (DSC) has a worldwide network of eighteen repair and conversion yards of which twelve are located in North West Europe. Facilities at the yards include more than 50 floating (and covered) drydocks, including the longest, 420 x 80 metres, and the widest, 405 x 90 metres, as well as slopes, ship lifts and indoor halls. Projects range from the smallest simple repairs through Class' maintenance to complex refits and the complete conversion of large offshore structures. DSC completes around 1,300 repair and maintenance jobs annually, both at yards as well as in ports and during voyage.