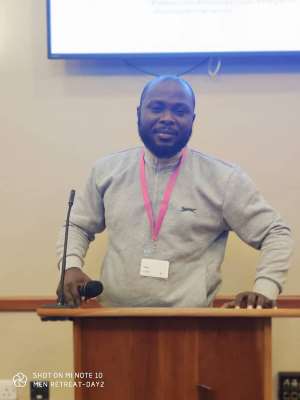 Joseph Appiah, a Ghanaian born Music producer and environmental activist rising in England advocating for solutions to environmental challenges.
He launched his environmental protection ambition and interactions with a group at a conference in UK. Mr Joseph Appiah a creative personality has been on this social and environmental campaign journey for the past 10 years. In the year 2012 he launched 'Ubuntu I pledge for peace' at Oak Plaza Hotel spintex road Accra.
In 2015, he launched another initiative dubbed 'Be The Change' on Social media such as Facebook,Instagram,Youtube etc. In 2016, have e proposed to produced Ghana's 1992 Constitution into Audiobook in local languages which has been considered by the Ministry of Justice and the Attorney General's Department of Ghana.
In 2018 he created Ghana/Denmark Music collaboration regarding clean Water and Sanitation with his partners Total Hip Replacement Band Denmark,This was also launched live on BBC London.
In his words at the conference he said, The environmental problems like global warming, acid rain, air pollution, urban sprawl, waste disposal, ozone layer depletion, water pollution, climate change and many more affect every human animal.