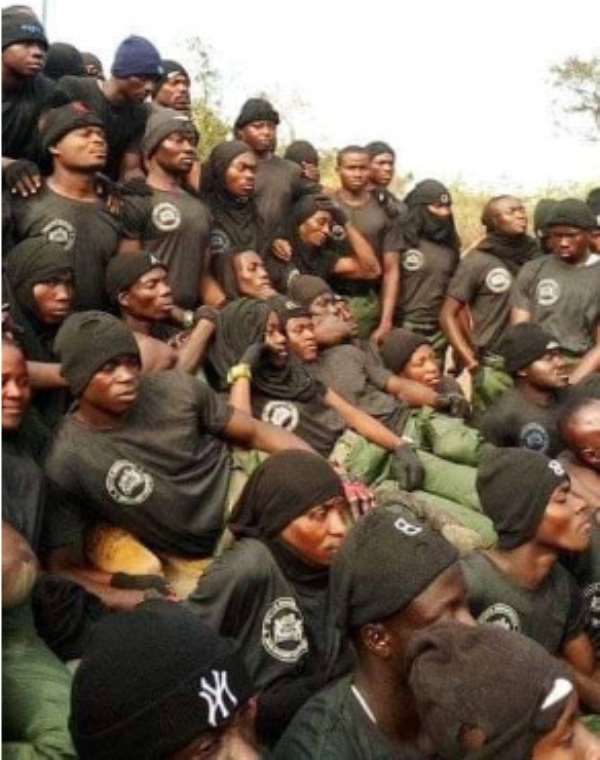 Homeland Study Group Foundation (HSGF), the secessionist group agitating for the restoration of the former United Nations Trust Territory, British Togoland as a sovereign state has on 14th December 2019, passed out more than 2000 young men and women who underwent months of training at their secret "Western Togoland Guerrilla Army Training Camp" to form their Defence Force. This, many believed will gradually lead to an armed conflict.
This came after the leaders of the secessionist group had declared the former UN Trust Territory independent of Ghana on 16th November 2019, at a gathering disguised as a funeral ground to beat security forces' intelligence and a few days after, the Ghanaian government issued a statement calling on people to ignore the declaration and directed the security services to arrest all members of the secessionist group including its 85 years old leader, Papavi Hogbedetor.
Ghana, a country believed by many in the world to be the most peaceful and democratic in the West Africa sub region of the African continent is steadily facing serious threats from the secessionist group with its latest guerrilla army movement which has even been confirmed by the National Security who also vowed to go after the trained guerrilla forces.
However, one may ask; what will happen if the Ghanaian authorities begin chasing this battle ready independence agitators? Would they sit down for them to be arrested and subsequently charged for treason? According to an insider who spoke to WestAfrica24, under anonymity said the secessionist group vows never to give Ghana the chance to clamp down on their independence dreams and therefore will stand to defend the territory and its inhabitants should the Ghanaian authorities make any miscalculation.
As the National Security apparatus are preparing to move to neutralize the security threat posed by these battle ready secessionist guerrilla army, the HSGF has already called on the Ghanaian authorities to respect the sovereignty of the newly unilaterally declared independent State of Western Togoland and stop harassing its decades long marginalized citizens.
WHAT IS WESTERN TOGOLAND?
Western Togoland is a name given to the former British administered Togoland with its other half being the French administered Togoland which is now independent Togo more than five decades ago. The territory has just the same history as the Southern Cameroons which are currently in an armed conflict with the French Cameroon.
In 2017, Western Togoland through the HSGF was admitted into the Unrepresented Nations and People's Organization (UNPO), an organization that helps fight for the freedom of struggling and occupied nations and unrepresented people. Independent nations such as Kosovo and Estonia are few notable nations that gained their independence with the help of the UNPO.
The Western Togoland is confirmed to have deposits of oil in two different locations in large commercial quantity, large deposits of gold, Uranium, Bauxite, Manganese, Timber, Lithium, Cocoa, Clinker, Numerous tourist attraction sites, numerous water bodies and many more valuable natural mineral resources.