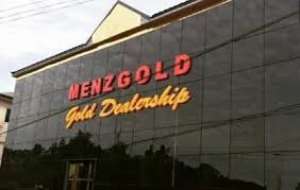 Defunct gold dealership firm Menzgold Ghana Limited has announced steps to payment of customers from Friday, December 27, 2019, over the next 36 months.
The company made this revelation in a statement on Wednesday, detailing the payment schedule and formula to be employed in making the disbursement.
Already, the company has completed a document validation process aimed at ensuring smooth payout to customers.
Menzgold folded up in 2018 after the Securities and Exchange Commission (SEC) ordered it to suspend its operation with the public.
Several efforts by the customers targeted at the company to get their monies have failed to yield any positive results.
According to the Commission, Menzgold did not have the license to trade in gold collectibles and that doing so was in contravention of the Securities Industry Act, 2016 (Act 929).
In the latest development, the statement signed by the Head of Communications of Menzgold, Nii Amarh Amarteifio, explained that "payments start on Friday, 27th December, 2019 with funds at hand now, as we proceed to go recover the debt owed Menzgold overseas, especially in Dubai and Europe to come reinforce as payments sessions continue".
It, however, disclosed that payments shall be made strictly following a "reverse mechanism", "which implies from the last day (month) of our business operations to the very first day when our business commenced. Thus; from 12th September 2018 to 18th March, 2013. To this end, we shall start to settle all transactions in September 2018 and those who didn't access any extra values, as we proceed in the first above described mode and manner."
Menzgold has, however, stipulated a three-year period within which it intends to settle all debts owed customers.
"We shall endeavor to commit not more than thirty six (36) months to settle all claims, as we follow strictly the reverse payment mechanism in our firm resolve to amicably and peaceful reverse all transactions or contracts as formed, to achieve cordial co-existence and harmony."
Read the full statement
---Myjoyonline.Com