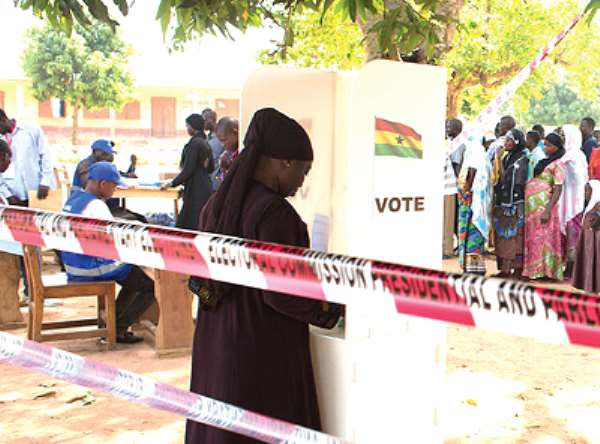 Voting is underway in the district level elections across Ghana where a total of 57,030 candidates are jostling to win seats in either the assemblies or the unit committees.
With the exception of Nkoranza North, Nkoranza South and Lower Manya Krobo where there is no election happening, all other districts are voting today.
In the district assembly election, 18,510 people, comprising 17,601 males and 909 females, are contesting, while in the unit committee election, 38,520 people, made up of 34,769 males and 3,751 females, have offered themselves for election.
Low interest
There were no queues at many of the polling stations visited.
From Ashale Botwe School junction in the Adentan Constituency in Greater Accra, Enoch Darfah Frimpong reports that as of 9am, 29 people out of a total 781 people in the register had voted at the Nii Sowah Din polling station B at Nmai Dzorn.
At the Nii Sowah Din polling station A at the same Nmai Dzorn cluster of schools, 15 out of 354 on the register had voted as of 8:50am.
The polling officer at the Nii Sowah Din polling station B, Asare Francis Dankwa told Graphic Online the process was moving smoothly and that the station was not facing any difficulties, except that voters were trickling in small numbers.
more to follow...
---graphic.com.gh