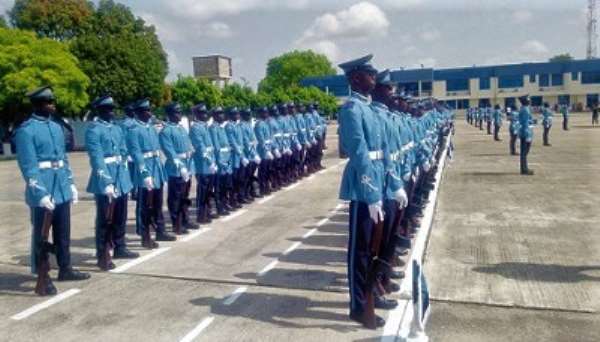 One hundred and ninety Customs recruits have passed out from the Kpetoe Academy of the Ghana Revenue Authority (GRA).
The 118 males and 72 females graduated after going through seven months of intensive training in courses such as Drills, Protection Duty and Arms Combat.
Sacrifice
The Commissioner of the Customs Division of the GRA, Col Kwadwo Damoah (retd), implored the graduands to cultivate the spirit of selflessness and sacrifice in their service to the nation.
"Having gone through this course, your individual and collective aspirations and expectations have been met.
It is, therefore, your duty to justify the huge expenditure that has gone into your training.
I expect you to do this by displaying total selflessness and the spirit of sacrifice for the nation," he added.
According to him, the success of the government's vision of Ghana Beyond Aid depended much on the performance of the GRA, for which reason they must exhibit a high sense of duty.
He also asked them to eschew bad behaviours that might contravene the professional ethics of the GRA.
"You must eschew the get-rich-quick attitude, so that together, we build our dear nation to enviable standards," Col Damoah said.
Innovation
He further urged the graduands to be information and communications technology (ICT) compliant, since most of the operations of Customs officers were in ICT.
"You will agree with me that just as in all other areas, so much creativity is taking place in trade.
Therefore, to move with the times, I urge you to be innovative and creative on your job, bearing in mind that many changes are taking place in all aspects of life the world over," he added.
Awards
Awards were presented to deserving graduands.
They included Junior Cadet Gabriel Amposah, Best Physical Trainee; Junior Cadet Juliet Tweneboah, Best in Academics; Junior Cadet Kingsley Opoku-Agyarko, Best All-round Trainee; Junior Cadet Patricia Boafo, Best Female Trainee;
Junior Cadet Portia Yeboah, Best in Drills; Junior Cadet Naomi Okah, Best in Weapon Handling, and Junior Cadet Hagar Asare, Most Disciplined Trainee.
---graphic.com.gh