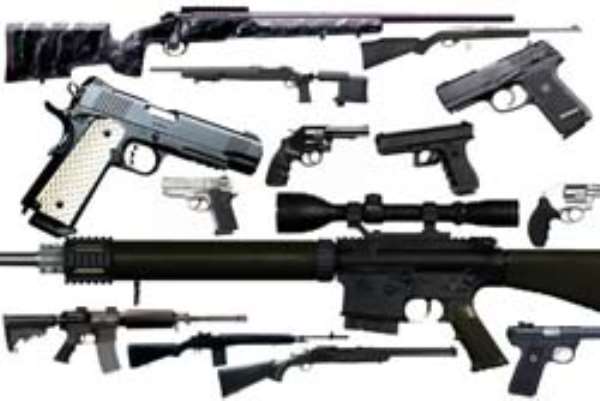 There are about 2.3 million unlicensed firearms in circulation in Ghana today, and the fear is, the number could more than double if stricter regulations aren't put in place to check them.
According to the National Commission on Small Arms and Light Weapons (NCSALW), the current situation calls for a new strategy to deal with the increasing numbers.
Collins Owusu Amankwah vice-chair of the commission says: "We need to digitize the old manual way of retrieving and filing records.
We need to computerize the system so that we can track all the arms in the system."
Can the Commission track all the arms?
It isn't t a bad idea to dream big or be ambitious. But. I don't think the Commission's target goal is realistic or achievable.
How's that possible?
Mind you, you're dealing with an unspecified number of guns in the system, coupled with poor address systems in the country among others. Therefore, tracking all of them in the system won't be possible. And here's why: 90 percent of crime scene arms are known to be locally-manufactured.
What does that tell you?
It means that most small firearms owners acquire their weapons through local manufacturers. Question is: how do you track down a manufacturer at say Pensanom or Brahabebome, let alone the owner?
Aside that a good number of firearms, perhaps assault-styled rifles over the years have found their ways into the country from far and near. From neighbouring Togo in the East, Ivory Coast in the West and Burkina Faso in the North due to our porous borders.
This, in part, is what makes control of firearms quite cumbersome. Nonetheless, I believe the introduction of digitisation is the way to go.
Again, computerization cannot do the magic we want..So we need to back it up with thorough background checks and offer periodic training and orientations for dealers including mall firearms owners. Note, universal background check may not necessarily, bring the numbers down but it will no doubt reduce crime.
In Ghana under the Central Firearms Registry (CFR) policy the police are supposed to organize training and periodic orientation courses in firearms licensing outlets. The CFR was created in 1955 with the sole responsibility of registering and licensing of firearms within the country. The Unit is under the direct supervision of the head of the Criminal Investigation Department (CID) of the Ghana Police Service. This was a deliberate move, according to the authority, to ensure effective management.
It is one of the core functions of the police. Others include keeping statistics, controlling and monitoring,, as well as keeping records of all licensed farms and ammunition dealers in the country.
So who can own a gun in Ghana?
The law allows any individual who is 18 and above, mentally sound, physically fit and of good behaviour to own a gun.
Meanwhile, a security analyst, Adam Bonaa has called for stricter regulations on the use of firearms in the country.
His remarks follow three separate shooting incidents over the weekend.
At Kasoa, a fast-growing town (near Accra) and a business hub a police officer shot and killed one person. Two individuals were also reported killed when shots were fired into a crowd during a traditional ceremony in Mankessim near Cape Coast in the Central region..
Elsewhere in the Bole district of the Savannah region an elderly man was also shot and killed in his home.
Mr. Bonaa believes the introduction of tighter regulations on the use of guns would mitigate such incidents of violence.
"We have small arms all over the country and apart from that we do also have security officials who are either owning some of these arms legally or illegally," he said.
According to Mr. Bonaa he has advocated that government put in stronger measures in place to ensure that small arms are not used the way and manner people use them during festive occasions or are not used just as we see across the country without any restrictions.
"I am aware that the Ministry of Interior that is in charge of the licensing and all that. There's some amount of restriction with the issuance of licenses for gun permits or gun ownership but that notwithstanding we still have a large section of the public that still own firearms legally or illegally,."
The analyst said:"Most of them don't have what it takes to own a firearm".
Complaint
NCSALW recently complained about gaps in the Arms and Ammunition Act and called for its review. It's also understood that Defence and Interior Committee of Parliament had previously urged the Interior Ministry to use technology to track firearms in the country.
A neuroscientist and bestselling author Abhijit Naskar says: "Firearms can't ensue safety in society, only open arms,."