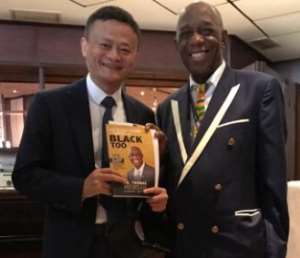 Fiber Optics Inventor and the Worldwide Nanotechnology Expert as well as Founder of Silicon Valley of Ghana, Professor Dr. Thomas Kwame Owusu Mensah presented a copy of his book," The Right Stuff Comes in Black Too" to the Founder of Alibaba Mr Jack Ma recently.
The President of Ghana, His Excellency Nana Addo Dankwa Akuffo Addo invited Jack Ma to launch the First Netpreneur Program for the youth in Ghana as part of his SDG Sustainable Development Program in Africa.
In meeting Jack Ma and presenting an autographed copy of his book to him, Dr. Mensah was making a strong statement that Jack Ma is the right stuff of this world for creating and growing Alibaba the internet online sales company to a multibillion-dollar empire. The Company will be doing a second listing, this time on the Hong Kong Stock Exchange with valuation over 12billion. This is even larger than the most anticipated ARAMCO public offering.
Dr. Thomas Mensah who is a key player in the broadband internet space because of his pioneering work in Fiber Optics in the United States of America that allowed companies like Google, Facebook, Amazon etc to grow to dominate the internet platform globally. This technology is the backbone for Uber and many of the applications.
Chinese Companies like Alibaba and Huawei are also setting the standard in this technological revolution. As a matter of fact Huawei demonstrated the largest 5 G Connectivity in the world in China recently with 800 Million People. This feat has not been done in the west.
Dr. Thomas Mensah is also working with the Railway Ministry where he intends to lay Fiber Optics Cable along high-speed train routes in Ghana to reach a larger goal of Internet everywhere including rural areas to connect, Schools, Universities hospitals, One District One Factory locations, Financial Institutions using broadband Fiber Optics Technology. This Technology is cheaper than Satellite Technology.
Dr. Mensah wants the Silicon Valley of Ghana to work not only with American companies but with Chinese companies like Alibaba and Huawei.