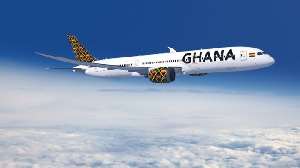 Hmmm, Oman Ghana, eyeasem ooooo - asem kesie ebeba debi ankasa. To quote an old wag I know: "Kofi, Vice President Mahammadu Bawumia is a spoilt rich man's son, who has never suffered in life before, and thinks life is a joke - just like former President Mahama whose father was also a rich man, does too. Well, actually, life in Ghana is no joking matter, for their information." My response: I concur in toto, Massa.
"Furthermore, Kofi, future generations of Ghanaians will condemn Bawumia and the equally-blockheaded Hon. Yaw Osafo Marfo, the Senior Minister, for going to China and using the priceless Atewa Forest Reserve's poor-quality bauxite deposits, as collateral for a paltry U.S $2.5 billion." My response: Again, Efo, I agree in toto, and I salute you, Massa.
"Kofi, can you believe that those bloody genius-fools, then returned to boast to the world that they had used an innovative model, to source funds to expand and modernise Ghana's infrastructure - when we can actually modernise our infrastructure without ever burdening future taxpayers with mountains of debt?" My response: Massa, wu ye bue: tell me how, la. I am all ears, Efo.
"Kofi, the question we must all ponder over, as an aspirational and wise African people is: Why does it never strike Ghanaian politicians that there are companies across the globe, willing and able, to borrow longterm funds to build tolled concrete roads, railway lines, harbours etc., etc., in return for long tax holidays, for periods ranging from 25 to 35 years?" My response: Ahhh, who born dog, Oga, I ask? Hmmmm, eyeasem, oooo.
" And, incredibly, today, we are hearing that the corruption-riddled nation that has failed three times in its attempt to run a national airline, successfully, has now purchased a fleet of new aircraft to set up yet another national airline. Ebeii, what genius-fools are these hard-of-hearing-politicians, koraaa? Haaba!" My response: Massa, eyeasem oooo.
"Kofi, the question there is: Are there not budget airlines in Europe, such as Norwegian Long Haul, which use the low-cost airline business model, which Ghana could have easily persuaded to partner it, to set up a pan-African low-cost airline, offering point to point flights between cities across the continent, to Accra, for onward connecting/transfer to airports in cities in Europe, North America, the Caribbean and South America? What genius-idiots are these koraaa?" My response: No comment.
"Finally, Kofi, my humble advice to them, if they know what is good for them, is that they must immediately revive AirLink, the brand which the Ghana Air Force used to operate internal flights with, once upon a time, and hand over to the Ghana Air Force, all the new aircraft said to have been purchased for the so-called new national airline. They must then tell Ghanaians where they got the money to pay for those aircraft, and what the terms were. Now. Not tomorrow. Some of us are getting pretty fed up with being ruled by greedy and incompetent genuis-idiots who never learn from past errors of judgement. Haaba." My response: "Massa, bo ho biom, wiyee, na yabre, la!" Hmmmm, Oman Ghana eyeasem ooooo - asem kesie ebeba debi ankasa. We rest our case.