It's Our Responsibility To Support Our Loyal Customers – MTN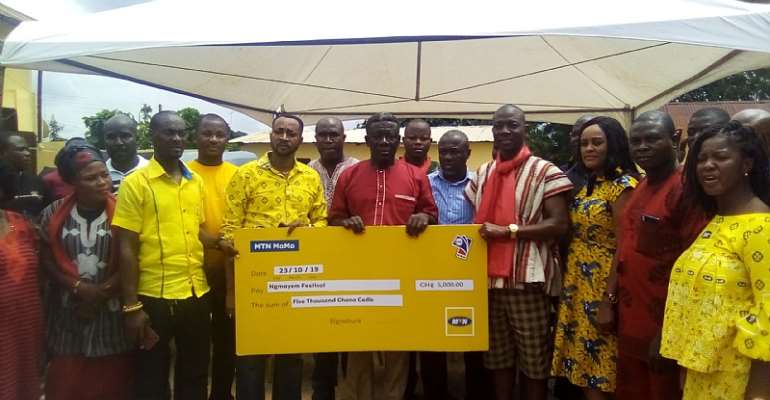 The Area Sales Manager (ASM) for MTN, Eastern and Volta Regions, Stephen Asare has emphasized that his outfit with a strong act of benevolence support communities to communities in which they operate.
He was speaking today during the celebration of this year's Ngmayem Festival of the people of Manya Krobo in Odumase Krobo today.
In support of this year's Ngmayem Festival, MTN donated an amount of GHS5000.00, assorted drinks and GHS300.00 worth of airtime for the people of Manya krobo and the organization committee.
He said, "We believe that as part of our Corporate Social Responsibility, we are supporting the people of Manya Krobo in their festival because they use our products and services. It is a way of showing an appreciation to them for their continued use of MTN and contributing their quota in the growth of our company because without customers no company will exist."
He continued, "So it's a way of thanking the customers, the Traditional Council and people of Manya Krobo by using MTN services."
Mr. Asare indicated that it was their first time of donating to support the people of Manya Krobo in the celebration of their annual Ngmayem Festival and they hope to continue supporting them in the coming years. "We've been doing a lot of festival support but for Manya Krobo, this is the first of its kind in the district."
The Deputy Eastern Regional Minister, Samuel Nuertey Ayertey noted that "As a proud citizen of Manya Krobo Traditional Council, I am happy today to be part of this year's festival. We went to the ancestral home to see the graves of our ancestors and after that we came to the palace for thanksgiving."
He admonished that there should be unity among them so they all can come together to develop the Krobo area.
Nartey Wakeme who is the Secretary to the Planning Committee stressed, "We say a very big thank you to MTN. We are even surprised they've come bigger. So we are hoping that come next year when we go to them, they come bigger than this for the development of the area."