Poor drainage responsible for landslide on Aburi road – NADMO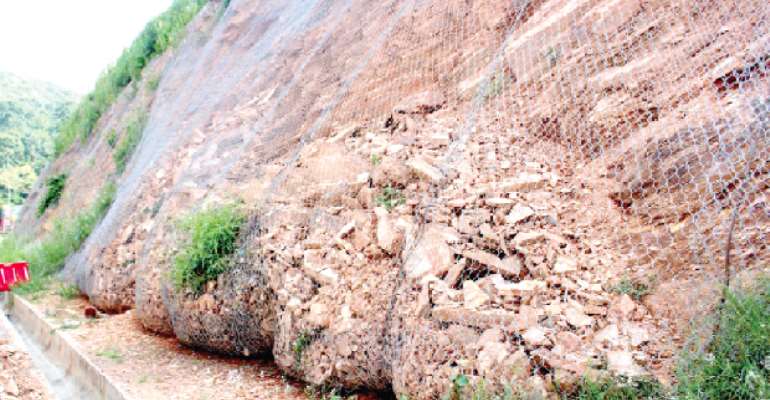 The National Disaster Management Organization's (NADMO) Coordinator for the Akuapim South District, Akufo Buckman Ntow has blamed what appears to be a landslide on parts of the Aburi highway on the poor drainage system at a facility close to the road.
After nearly an hour of heavy rains on Friday, some rock particles and debris were eroded from the Aburi mountain unto the highway blocking a part of the road.
The development occasioned a diversion of the road to enable drivers still move from the Aburi area into Accra.
"Users of the Aburi-Accra road are advised to drive carefully and obey diversion instructions of Police on that stretch, as there is a landslide on a portion of the road between Peduase Lodge and Ayi Mensah," police warned in a statement on Twitter.
But Akufo Buckman Ntow in explaining the situation to Citi News said the blocked route will be open to traffic as soon as the debris is collected and the area deemed safe.
"What we saw is that a building adjacent the hostel [along the stretch] had a wall but because it had no proper drainage to channel the wastewater into the main gutter of the road, that caused a fall of the wall and some erosion on the hill causing some sought of drift of mud and stone to the road…We've evacuated the debris so that sanity can be restored on the road," he said.
The hilly terrain by the road was noted for incidents of falling rocks that endangered vehicular traffic.
The government initiated  road works on sections of that stretch  in 2016 to put a steel mesh over the slope to be held by anchor bolts.
The project was estimated at GH¢12 million.
The Peduase Lodge-Ayi Mensah road was constructed along the Aburi hills to connect Accra to the Eastern Region.