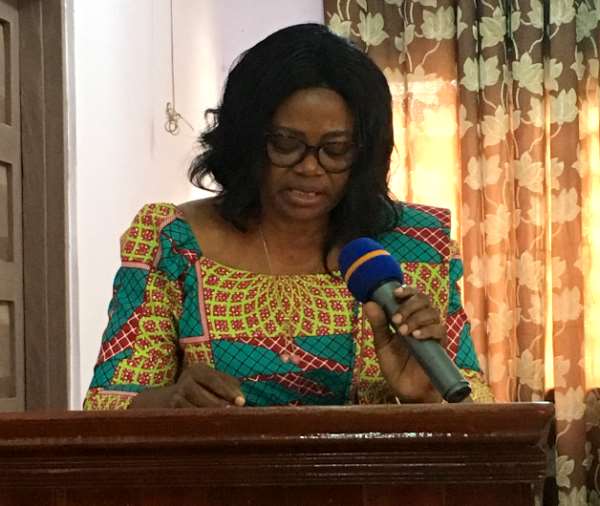 Mrs. Victoria Adu addressing the house
The Birim Central Municipal Assembly at an agreement has proposed some mechanisms to strengthen its bye- laws to improve sanity in the Municipality.
Mainly among them is public education campaign and sensitization programmes to educate the masses to be abreast of these bye-laws.
The decision also proposed various sanctions for the offenders of these laws. For, For instance, residents who may fail to pay their rate or license at a stipulated time by management are obliged to pay the said rate in full and a fine not below fifty (50) penalty units when default or to face a term of imprisonment not exceeding three (3) months.
This was announced by the Municipal Chief Executive (MCE) for Birim Central Mrs. Victoria Adu in an address at the sitting to dissolve the current term of Assembly members at Akyem Oda in the Birim Central Municipality of the Eastern Region.
She further urged all out-going Assembly members to continue to support management of the assembly and other law enforcement agencies to enforce the Assembly's bye-laws to make citizenry to comply with the directives of the Assembly.
This she said would go a long way to make citizens honour their tax obligations to ensure government gets the needed revenue to execute its projects to make the Municipality achieve its much anticipated developmental projects.
She commended Assembly members and staff of the Assembly for their cooperation, dedication, contributions and hard work which had led the Assembly to perform its core mandates over the years to assist improve the living standards of the residents.
Mrs. Victoria Adu however appealed to all outgoing Assembly members and other qualified voters to fully participate in an impending District Assembly elections when the time is due to enable them share ideas to make the Municipality achieve its needed development projects.
In another development, Mr. Andrews Abrokwa, the Presiding Member of Assembly advised contractors working in the Municipality to speed up work to complete all government projects on time to make the projects serve the needs of the residents and called blessing from God for the outgoing Assembly members.