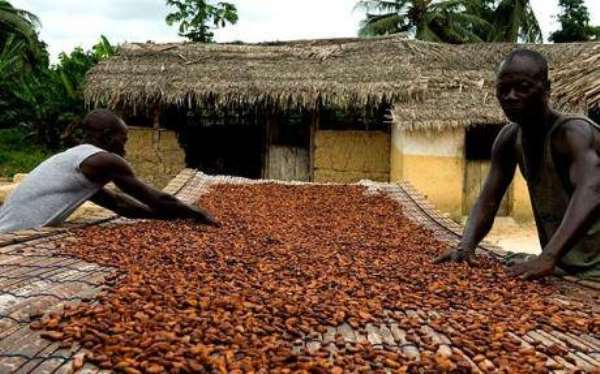 The Minority in Ghana's Parliament has indicated that conditions are more than favourable for our Cocoa farmers to enjoy the fruit of their labour after being denied any increment in the producer price over the past 3 years.
In a press release signed by Ranking Member on Agric, Food and COCOA Affairs Committee, Hon Eric Opoku stated that any price below ghc800 will be unfair, unrealistic and a demonstration of insensitivity to the plight of the Ghanaian cocoa farmer.
He said President Mahama left office with a per bag farmgate price of ghc475 which is an increase of ghc263 over his 4-year period and that for the past 3 years that the NPP government has been in office, it has only increased it to ghc515, an increment of only ghc40, noting further that "the government has received $577,250,000 as premium payments on our cocoa because of the best quality of Ghana's cocoa in the world and as such attract premium from buyers of our cocoa."
Hon Eric Opoku explained that the premium payments "comes in as surplus and additional income independent of the syndicated cocoa loan. Unfortunately, the utilisation of this huge amount is shrouded in secrecy," and that "had government added the premium receipts to FOB price of cocoa, the farm gate price of a bag of cocoa as at today would have been not less than ghc800," he added.
Expatiating further, Hon Opoku said the FOB price of $2300 secured for the 2019/20 crop year is higher than the 2018/19 price of $2200. Even the argument that the world market price has declined making an upward review of farm gate price impossible has lost its potency in the face of galloping exchange rate. To demonstrate this point, we wish to compare cocoa inflows in 2016/17 and 2019/20. We should be mindful of the fact that Ghana through forward sales has sold the 2019/20 produce though we are yet to harvest.
2016/17
FOB price + Premium $2950
(Per tonne which is 16 bags)
At $ 1 to ghc 3.9
Value in ghc 11,505
2019/20
FOB price-Premium $2300
(Per tonne which is 16 bags)
At $ 1to ghc 5.3
Value in ghc 12,190
The above illustration clearly establishes the point that the NPP government is raking in more revenue from cocoa than we did.
The former Brong Ahafo Minister said "in the face of rising fuel prices, increased communication tax, upwards review of the Health insurance registration fees, increased water and electricity tariffs, fanning inflation, the REAL INCOME of the cocoa farmer who has lived on stagnated nominal income for three years under Nana Addo's government, has fallen significantly. For example, in 2016, a bag of Cocoa was purchased at Ghc475 and a bag of cement was sold at Ghc22 in the Western Region. The cocoa farmer with a bag of cocoa during Mahama's era could buy 22 bags of cement. Today, under Nana Addo's government, the same farmer with the same bag of cocoa can buy ONLY 13 bags indicating a loss of 9 bags of cement."
We must not forget that President Rawlings exited office with a producer price of cocoa of ghc20.17 per a bag of 64 kilos.
President John Agyekum Kuffour left the seat of government with a per bag price of ghc102 indicating that for the entire 8 years of President Kuffour, ghc80.03 was added to the price.
President Atta Mills exited when the farm gate price was ghc212. This means that in 4 years president Mills added ghc 110 to the price of a bag of cocoa.
President Mahama left office with a per bag farmgate price of ghc475 indicating an increase of ghc263 over his 4-year period while President Akufo Addo had in 3 long years only increased per bag farmgate price from ghc475 to ghc515, only by gh40.
"We urge government to as a matter of urgency, Reduce the over bloated COCOABOD office expenditures so that cocoa farmers can have a sigh of relieve," the Minority concluded.