Sanitation Minister Lauds Krowor Municipality For Neatness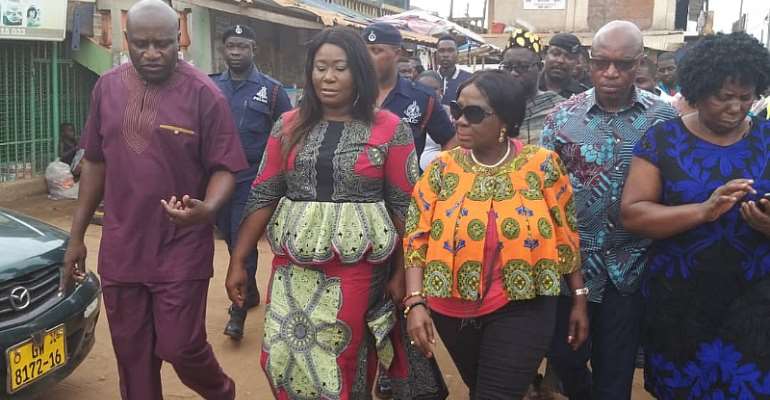 The Minister of Water and Sanitation. Hon Cecilia Abena Dapaah has lauded the Krowor Municipal Assembly for maintaining a cleaner environment in the Greater Accra region.
The Minister made these observations after embarking on an impromptu visit to the Municipality and toured its markets, landfill site and lorry park within the catchment area.
Amongst her entourage include the Member of Parliament (MP) for Krowor, Hon.Ellizabeth Afoley Quaye and Minister for Fisheries and Aquaculture Development, Hon. Joshua Nii Bortey Municipal Chief Executive (MCE) for Krowor. Deputy Minister for Sanitation and Water Resources, Hon Gyato, Chief Director at the Ministry for Sanitation and Water Resources,
Others include the Director, Management and Staff of Krowor Municipal Assembly, Management and Staff of Ministry for Sanitation and Water Resources
A 25 -man Press Attache witnessed the clean and hygienic conditions of the Nungua market, the Nungua Refuse Dump Site, the Nungua Transport Terminal and how the 2 GAMA toilet facility at the Nungua Senior High School (NUNSEC) has been managed.
After the exercise, the Minister for Sanitation and Water Resources Cecilia Dapaah gave a thumb up for the MCE and the MP for the area Hon. Joshua Nii Bortey MCE for Krowor and Hon. Elizabeth Afoley Quaye for making their environment clean.
Hon. Afoley Quaye promised to provide 200 GAMA toilet facilities to improve access to deserving households.
The two political heads promised a comprehensive face lift for the Nungua Market in the 1st quarter of next year. The Sanitation Ministry declared the Krowor Municipal Assembly as having scored an impressive 92% mark for the unannounced visit.
The MCE commended the Nungua Traditional Chiefs and residents for their co-operation and understanding to maintain a cleaner environment.
Source: The Punch Newspaper
Contact: [email protected]