DCE Commends CDD-Ghana For Encouraging Citizens Participation In Local Governance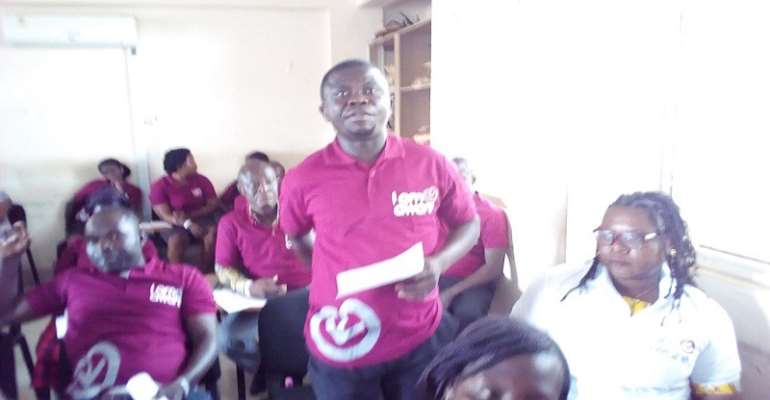 The District Chief Executive for Afigya Kwabre South in the Ashanti region, Mr. Adu Poku Christian has commended the Ghana Center for Democratic Development (CDD-GHANA) and its partners for their works over the years towards ensuring the effective participation of the citizenry in the local governance process in Ghana. The commendations comes on the back of a follow-up meeting of Social Action Group activities organized by Resource Link Foundation in partnership with the Ghana Center for Development as part of project dubbed "I AM AWARE". The District Chief Executive in his opening remarks stated that he is a beneficiary of the interventions of the Ghana Center for Democratic Development when he was an Assembly member which according to him has had a positive influence on him as far as his approach to leadership as a District Chief Executive is concerned. He therefore appealed to members of the Social Action Groups to be committed to working to bring developmental challenges in the communities for to be addressed. The District chief executive further stated that effective participation of citizens in the governance process helps them to appreciate the development challenges in the District and therefore participate in offering solutions to them.
On his part, the Executive Director of Resource Link Foundation commended the Social Action groups for their work over the years which have made some positive impact on service delivery in the District especially in the education sector. He appealed to them to redouble their efforts in the coming years of the project implementation to ensure that the needed impact was made.
Recounting the works and achievements of the Group, the Chairman Mr. Yaw Ababio who is also a Unit Committee Chairman at Mowire said through the work of the group, they ensured that a weak beam on a school block was pulled down and reconstructed at the Mowire D/A Junior High School. He further stated the group was working to ensure completion of the project to enhance access to education in the community.
The three Unit classroom block under construction at Mowire,insert Mr. Ababio SAG Chairman given an overview of the group's activities
The I AM AWARE project which is an initiative of CDD-GHANA and supported by the Hewlett Foundation and implemented in twenty Municipal and District Assemblies in Ghana main objective is "Empowering citizens to demand improved service delivery in Ghana" in the areas of education,health,water and sanitation,agriculture and roads