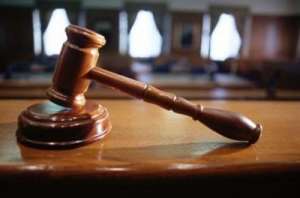 Lawyer for the six accused persons standing trial for the alleged murder of George Somuah Bosompem, the Religious and Moral Education Teacher of the Asiakwa SDA Basic School has filed a motion to determine the real ages of his clients.
The lawyer, who is disputing the ages of his clients as given the court by the prosecution, prayed the court to allow a medical doctor to ascertain the real ages of his clients.
The Kyebi District court presided over by Her Worship Mrs. Alice EfuahYirenkyi therefore adjourned the case to allow for the necessary processes to be well served.
In an interview with Citi News after the hearing the lawyer for the accused persons, Philip Nimo explained why he had to take such an action.
"We indicated that we were not happy with the ages the Police gave the suspects. In our mind, the suspects are all under 18 years but the Police said they went to their schools and picked their school reports and use that as the correct ages of the suspects."
"That is contrary to the law. Act 653, the juvenile justice act says that where the ages of the suspects are in doubt, you call for their participant certificate or their birth certificate. In the absence of the two, you refer the matter to the medical officers. We have three ways, the birth certificate, baptismal certificate and the medical officers report. None of these three was used. What the Police used was a school report and none of that is prescribed by the law so we are asking the court that in the absence of birth certificate and then the National certificate then they should resort to the medical officer's certificate."
Background
George Somuah Bosompem, a teacher at the Salvation Army Basic School at Asiakwa in the Eastern Region, died on May 3, 2019, after he was attacked by some teenagers in the community leading to his untimely death.
George Somuah Bosompem died at the St. Joseph's Hospital at Koforidua where he was rushed to after the attack.
He was initially admitted at the Kibi Hospital but later transferred to the St. Joseph's Hospital.
He is survived by a wife and three children.
According to the Regional Police Public Relations Officer, DSP Ebenezer Tetteh, initial investigations by the police showed that late George Somuah Bosompem incurred the wrath of the six teenagers, aged between 18 and 19 after he threatened to report them to the Police for stealing his farm produce, among other things.
—citinewsroom