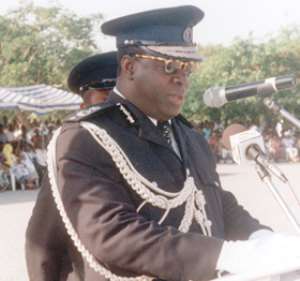 Accra, Feb. 24, GNA - The Police Administration on Friday called for orderly demonstrations to avoid confrontations with the police. "Let us commit and rededicate ourselves to orderly and peaceful demonstrations and avoid provoking law enforcement agencies to the point of engagement," the Inspector General of Police (IGP), Mr Patrick Kwarteng Acheampong said.
Speaking to journalists during a press briefing on demonstrations against the passing of the Representation of the People (Amendment) Bill into law, he said the first one held on February 14 passed off peacefully but there were acts of disorder during the second one held last Tuesday leading to injury to innocent people, including the Deputy Inspector-General in charge of Operations, Dr K. K. Manfo. Mr Acheampong referred to the Public Order Act and explained that every action taken by the police was with respect to the Act and that the police did not just act any how.
He said organizers of demonstrations always had to consider some basic factors such as the limits of tolerance which a police contingent could endure in the face of unjustified provocation and attack, the ability of organizers to control demonstrators and the likelihood of frequent demonstrations raising tensions and frustrations, among several others.
The IGP added that demonstrations could have a great toll on the Police Administration.
This could be seen in the physical logistics involved in moving over 1,500 officers from Accra, Tema, Eastern, Central and Volta Regions through some principal streets of Accra "for so many hours", fuel and food.
Mr Acheampong said officers left behind in offices and duty points sometimes had to be on duty for 24 hours.
"How does it affect our ability to perform other core functions such as prosecutions, response to emergencies, patrols etc?" he asked The IGP urged individuals and organizations not to make demonstrations a daily occupation.
Dr Manfo said it was when the demonstrators got rowdy and began throwing stones, with a big one hitting him on the chest around the Castle, that the police reacted.
Advising the public against disorder, he said, "If I had not straightened up, the stone could have hit my head and I could have been dead. Don't let us justify criminality. It is wrong."
Whilst the demonstrators have accused the police of being unnecessarily tough on them, the police on the other hand say they only resorted to the use of "minimum force" when they were pushed to the wall.
Several leaders of the demonstration have been granted bail after being arrested as a result of the incidents