Bono Minister, REGSEC Visit NDC Office To Fraternise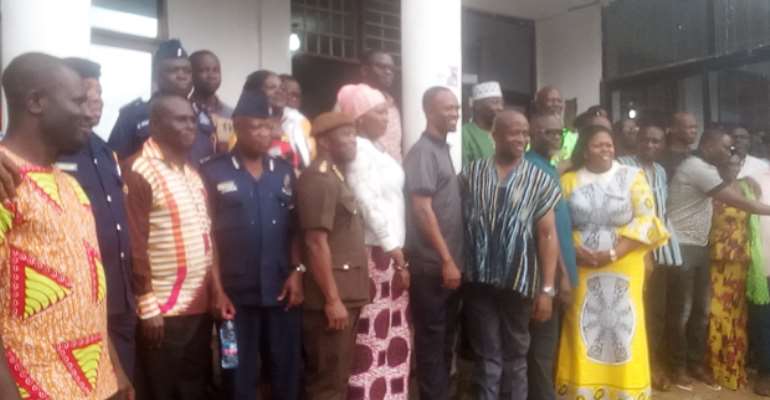 The Bono Regional Minister Ama Kumi- Richardson has paid a courtesy call on the National Democratic Congress (NDC) office in Sunyani to fraternise with them.
The minister accompanied by members of the Regional Coordinating Council (RCC) including the Regional Security Council (REGSEC) with key officers like the Army Commander, Regional Police Commander, Fire Commander among others were there to foster unity, peace and development of the region.
They were received by the regional executives of the NDC made up of the Regional Vice Chairman, Takyi Ahin, Regional Secretary, Denis Twumasi Yeboah and Organiser, Seidu Maha.
Addressing them, the minister reminded the opposition executives the need to work together to protect the peace in the region, to ensure economic development.
She said her administration was operating an open door policy and urged all the parties in the region to come together to devise strategies to curb corruption, fraud and vigilantism.
"The NPP and NDC have a common vision to develop the country but their only difference was in ideologies, so there is no need to habour hatred for each other,"
She said government was doing everything possible to resource the security agencies to fight the common enemy; crime, poverty and under development.
Replying, former Deputy Minister for Youth and Sports during the Mahama administration, Vincent Oppong Asamoah, who is also the parliamentary candidate for the NDC in Dormaa West, described the visit as 'shocking' and 'novelty'.
He praised the minister and the RCC for the effort and said the party would replicate the gesture.
He also said they should always stand for justice in the country and urged the security agencies to deal with all manner of crimes without taking into consideration political affiliations of the persons involved.
---Daily Guide