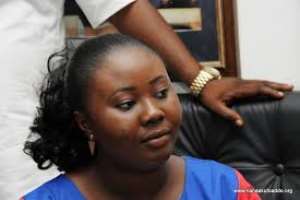 The Kwabre East Chapter of the National Democratic Congress has noted with grave concern the disturbance at the National Youth Authority (NYA) and would like to call on our MP who is the board chair of the Authority to resign honourably to keep the good image of Kwabre East intact.
Hon. Francisca Oteng Mensah who got the highest vote tally of any MP in the 2016 elections was surprisingly snubbed for a ministerial position despite the unprecedented appointment of over 120 ministers and deputies. Many believed the snub was clearly a sign of the President's lack of confidence in our young MP and so he reluctantly appointed her as Board Chair for the National Youth Authority. The Kwabre East constituency is yet to feel any meaningful impact of this appointment.
Last week, we woke up to news of the resignation of one Arnold Boateng, a member of the Board of the NYA. He cited issues that bothered on best practices, inappropriate conduct and actions as the reasons for his resignation but fell short of giving details due to the oath of secrecy he swore as a member of the board. This is a damning verdict on the Hon. Francisca led NYA board and we cannot help but notice the looming scandal at the Authority; one which is likely to bring our MP and by extension our constituency into disrepute.
There is an akan adage that 'woanya hwe amma woase a y3nb) no kr)no'. To wit, 'you should not rob you in-laws if you are unable to give to them'. Our MP has failed to alleviate our plight and/or make any meaningful impact with her appointment as the Board chair of the NYA therefore she must not rob Kwabre East of its good name by overseeing inappropriate conduct and actions at the Authority. We therefore demand her resignation immediately!
The continuous stay of our MP in office as the Board chair of the Authority is a tacit endorsement of the bad practices, misconduct and inappropriate action at the Authority and we refuse as a constituency to be associated with such. Any such failures will be enough justification for the President's snub in the formation of his elephant sized government. We would have none of that; we will jealously guard the good name of Kwabre East as good name is certainly better than riches.
Signed
Sawadogo Mahmoud
(Deputy Secretary)
For: SECRETARY
0244997751