Free Ride For School Children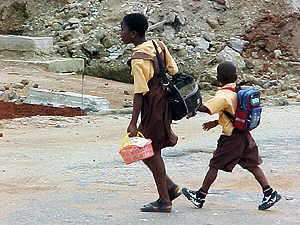 Accra, Feb. 14 (Daily Guide) -- The Metro Mass Transit Limited (MMTL) has designated more than 400 buses for free ride for schoolchildren in uniform. The nationwide pilot programme, which took off earlier than scheduled on January 30, 2006, is for kindergarten and junior secondary school pupils in both private and public schools.
The Deputy Managing Director of the company, Martin Afram, said the designated buses had stickers indicating free ride for schoolchildren in uniform. He said the exercise, which was barely 13 days old, had enjoyed considerable patronage especially in the small towns scattered in its operation areas. He cited Agona Swedru where schoolchildren had to queue for bus to go to school, saying after some time the company would be in a better position to access patronage in other parts of the country.
Mr Afram said following the introduction of the programme, there had been calls from the public to extend it to senior secondary school students. He said the calls from the public were not possible now since the current pilot programme was for kindergarten and JSS pupils.
According to him, the vehicles used for the exercise were the Yaxing, Iveco and VDL buses, and added that long distance buses were excluded from the free-ride programme. He said the MMTL had taken delivery of 50 more Yaxing buses to augment its services, adding that the company's Volta Regional service would be launched on Saturday February 18, 2006.