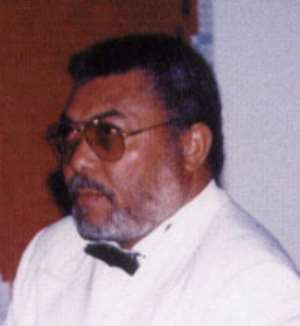 JEDDAH, 14 February 2006 -- Islamic Development Bank President, Dr. Ahmed Muhammad Ali, has singled out Ghana's former President Jerry Rawlings and Nelson Mandela of South Africa among the African leaders who stand out as role models for the continent.
Dr. Ali was addressing a plenary session on "The challenge of Africa," on the concluding day of the three-day 7th Jeddah Economic Forum at the Hilton Hotel yesterday
"South Africa, which has been a melting pot of various ethnic groups and races, has emerged as a role model for the entire African continent", Dr. Ali said.
He added that Africa was gifted with leaders who had become role models and who had brought pride to their countries and the continent. He singled out Mandela and Rawlings among the African role models.
Rawlings was among the three African speakers who addressed the session. The other two were Manase & Associates' Chief Executive Officer Zodwa Manase and Congo-Brazaville Forestry and Environment Minister Henri Djombo.
Rawlings presented Ghana's success story. "What contributed to the country's transformation was the element of accountability that each countryman was subjected to exercise.
In fact, democracy has been bringing the best out of our people and we're today an economic power," Rawlings said. As a result the country's infrastructure development progressed well and zero tolerance level realized.
"All we did was to offer the leadership of accountability. We developed in our people a strong sense of unity and purpose."
African leaders urged Saudi investors to study the vast potential that exists in their continent.
The scope is vast and investors can reap a rich harvest, African speakers said.
Dr. Ali, who was the moderator of the plenary session, said the African continent was faced with many problems, lack of good governance being one of them in many parts.
"Health problems including malaria, AIDS and bird flu and other diseases have also been causing great concern in the continent. What's more children cannot attend primary school," he said.
Answers to such problems besetting the continent can now be found when every village in every country is becoming part of the global village.
"No country can remain isolated from the global village," Dr. Ali said. That will pave the way for greater interaction resulting in close cooperation among various countries and thus lead the way for finding solutions to their problems.
Africa covers a vast and expansive territory. It is home to a diverse group of tribal, ethnic and religious communities, and host to a variety of political systems. The continent also confronts a variety of challenges if it is to realize its vision for the future. Many international conferences, summits and concerts have been organized to support African nations in their fight against poverty and malnutrition.
What are some of the obstacles ahead of African leaders and communities as their strive to make home a better place and how can Africa overcome the diversity within its borders and work to unite its many communities toward a better future were among the questions presented by three eminent African speakers at the session.