Supreme Court Nominations Explained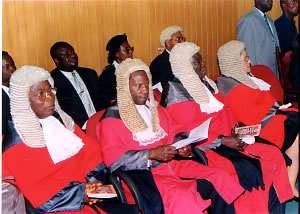 Two of Ghana's 13 Supreme Court judges are currently incapacitated with another on assignment in the Gambia.
The President's Press Secretary, Kwabena Agyei Agyapong disclosed this at the Castle in an answer to a question regarding the President's reasons for nominating two new justices to the Supreme Court.
The President in accordance with Article 144 clause 2 of the constitution this week nominated Mrs Justice Sophia Ophelia Adjeibea Adinyira and Mr Justice Samuel Kwadwo Asiamah to the Supreme Court in consultation with the Council of State and subject to the approval of Parliament.
Answering a question posed by newsmen on the necessity of raising the number of justices on Ghana's Highest Court to 15, especially when the US and UK had 9 and 11 respectively, the President's Press Secretary emphasised that the President was exercising his constitutional mandate and stressed that the fact that the court had been rendered three judges short prompted the new appointments.
Kwabena Agyapong refuted suggestions that the appointments are politically motivated to favour some possible rulings for the government in the future. He explained also that the principle of power separation was being adhered to and there was no interference with the running of the various institutions. He said it was important some level of trust was given to state institutions and for people to believe their independence.