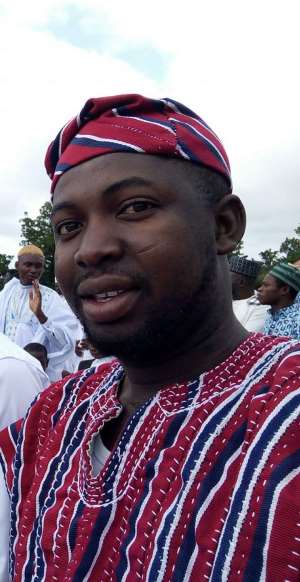 Tahiru Lukman (Development Consultant & Youth Activist- UW/R)
From Mognori, Badu and Tampizua in the Bawku Municipality to Kagilu in the Kassena- Nankana West District and down to Billi in the Nadowli/ Kaleo District, government have failed the people of the North in the implementation of one of the many flagship policies- 1V1D. This is because what have been provided in these places could best be described as "frog ponds". It is sad to note that, the initiative has become like an avenue for friends and loyalist to be awarded with contracts, with improper bidding and evaluations process.
The failure to provide decent or suitable dams is not an excuse, because there are already existing dams in most of these Municipalities and Districts where, the contractors and 'book'engineers could have used 'common sense' approach and visit these places for best projects designs. The Azoka Dam in Bawku Municipality of the Upper East Region and Siiru Dam in the Upper West Region could have been a reference points.
Sadly, some of the so called dams constructed in most of the places cannot contained enough water for meaningful dry season farming. It is also point worth to note that most of the so called dams have their embankment washed away. Mentioned could be made to include Badu and Kajelo in the Bawku Municipality and Kasena- Nankana West District, respectively. It is a clear case of shoddy works and insensitiveness of individuals in government that are only taking advantage of project awards to make money.
It is emphatic that, the ministry of special development initiative has failed in its duties and only wasting our little resources. The disturbing images of 1V1D should have gotten government to act on it accordingly by reprimanding the engineers and contractors where necessary, rather government has turned a blind eye and ear tough, towards the initiatives. The evidence is glaring and cannot be ignored.
Although, the policy initiative is laudable, especially that, agriculture is the mainstay of Ghana's economy, such initiative have the potential of ensuring all- year round farming, thereby contributing to food sufficiency and security. It could have indeed reduced the North- South drift that occurs mostly in the dry seasons as the youth become inactive. The failure of government to as a matter of urgency to address the concerns of beneficiary communities, will only leave them with one benefits- Frogs will only invade the ponds and help the corks crows to wakeup community members at down.
In some cases, it could be described as dug- out, while in most case one cannot even compare it to a fish pound. We cannot put the task payer's money in people pockets for doing nothing. There is a clear case of corrupt practices in implementing the initiative and government must quickly act to salvage the situation.
We must collectively stand up as good citizens of Ghana and not to hide behind political activism and defend stupid and useless work done by greedy elements that lack moral principle and pride as Ghanaians. I have praise government for this policy initiative, but implementation is a total disaster.
For government to ensure that, the project is on track, the following recommendations will be necessary;
An independent committee to audits so called dams that have been constructed
Payments to contracted must be halted before audits is been carried out
Beneficiary communities must be well consulted and taken through project design for effective monitoring
The MMMDAs must be actively involved in the project implementation process
There should be a proper background check for all contractors before awards of contractors.
Until this is done, the projects will only be a mirage as most of the dams' life span has already been cut short.
Writer: Tahiru Lukman
Tel: 0209154057 / 0551018778
Email: [email protected]
Job: Development Consultant/ Youth Activist- UW/R