Persons With Disabilities Told To Join Assembly Elections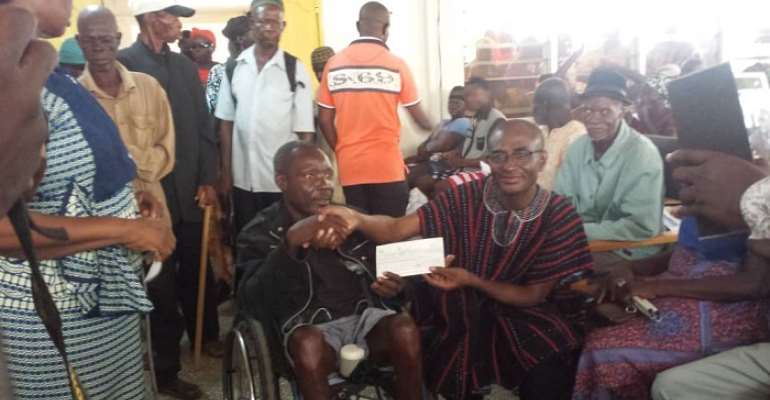 Upper East Regional Chairman of the Ghana Federation of Disability Organizations, David Aniah has encouraged persons living with disabilities to put themselves up for contest in the upcoming District Assembly Elections in November 2019.
He urged persons living with disabilities who are already Assembly Members to work hard to retain their seats so as to be in the position to champion the course of such persons at the assembly level.
According to him, persons with disabilities in the region have been empowered enough through various government interventions to be part of making decisions that will bring development.
At a ceremony at Paga in the Kassena-Nankana West District over the weekend where a total of 123 persons living with disabilities received varying amounts of money from the 3rd disbursement of money from the District's Disability Fund, Mr. Aniah said "We have been empowered for a very long time, what we need now is to participate in various decision making. I'm encouraging all persons with disabilities especially those with leadership potential to join the November polls."
Mr. Aniah however, appealed to his colleagues to always use the money they receive from the Disability Fund to setup viable businesses that can sustain them and their families.
The District Director of Social Welfare, Victoria Asuliwuno gave the breakdown of the beneficiaries of the Disability Fund as 46 females and 76 males.
She said the 2018 monitoring report by the PWD Monitoring Committee indicated that none of the beneficiaries misused the money they received from the Disability Fund disbursement and was very hopeful that this batch of beneficiaries will do same.
Kassena-Nankana West District Chief Executive, Gerald Atuogya encouraged persons living with disabilities to be more proactive in any field of their choice and take advantage of every opportunity at the District Assembly to improve on their standard of living.
---Daily Guide