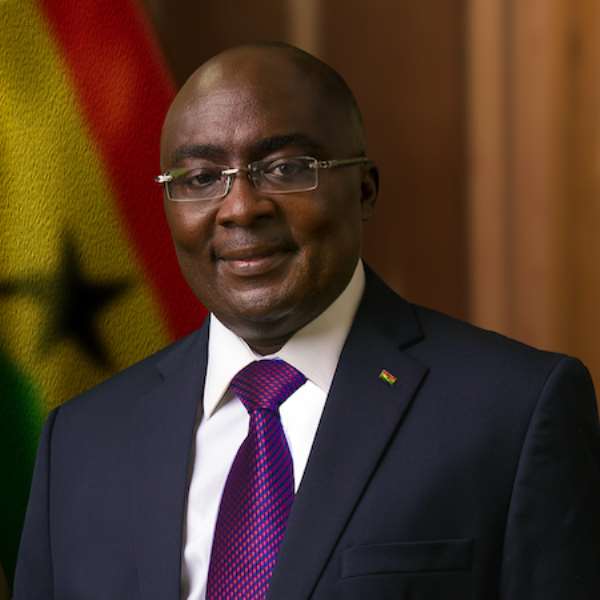 Dr. Mahamudu Bawumia
Assalaam Mualekum Mr. Vice President,
I am very excited to write this letter to you. This week, you will be winding up on your Annual Ramadan Tour of the country. This my letter to you is in respect of your novel and very laudable nationwide Ramadan Tours.
First of all, I must commend you on your style of politicking and governance. Your approach of always pointing out the incompetence of the NDC government to them with incontrovertible and sacrosanct facts and figures has always left them looking for cover because that is never the terrain they are used to. In 2008, the NDC insulted their way to power. Most of their insults, garnished with lies and propaganda, required that Satan had to enroll in the Ghana Institute of Social Democracy (NDC propaganda school) to stand any chance of ever reclaiming his position as the devil. If you ever wondered why these NDC people were referred to as "babies with sharp teeth" and not babies with sharp brains, the answer is that majority of NDC activists and front liners have advanced laurels in insults and basic certificates in logic and common sense. The fact that about 90% of former president Mahama's ministers were enrolled in universities in and outside of this country attest to this fact. Their insults, lies and propaganda didn't stop even after ascending to government from opposition in 2009. Mr. Vice President, Ghanaians were fed something much more honorable, sumptuous and dignifying when NPP lost power and you became the focal point of their campaign, especially in the build up to the 2016 general elections. You brought dignity to all Ghanaian politicians by remaining calm and focused while debating issues. Whenever you spoke, you exposed them badly without any insults and personal attacks. They had sleepless nights and still have because you exposed and keep exposing their incompetence and why the NDC is a scary alternative to the NPP. Mr. Vice President, I therefore want to commend you for your role in transmogrifying Ghana's political discourse from one of insults to one of the issues, bread and butter.
Your Excellency, available data indicates that Islamophobia is on the rise in certain parts of the world as a result of media campaigns against the peaceful religion of Islam as well as the actions of a few misguided 'Muslims'. Contrary to what pertains elsewhere, in Ghana today, there's better understanding of Muslims and the Islamic religion by non-Muslim Ghanaians. I was so overjoyed recently when some pastors joined you on tour of some mosques as a sign of camaraderie and religious tolerance. That act, and our Chief Imam's visit to a church confirms what the holy Quran says in chapter 5:82 that Christians are the closest to the Muslims in love. Sir, you as well as His Eminence, the National Chief Imam Sheikh Osmanu Nuhu Sharabutu deserve applauds for being the strongest advocates of religious tolerance and preaching against radicalism of religion. Muslims in Ghana now feel more integrated and belonged than they ever were, not just because you are the Vice President and Muslim, but because you and your government have initiated policies and programs tailored towards their needs and development. Sir, I personally couldn't have been prouder of you.
Mr. Vice President, if you ever doubted the impact of your Ramadan Tours, remember that people who were at the seat of government for eight years but never introduced any policy to tackle the problems of Zongos (which are largely Muslim populated), nor did they ever organize any 'iftar' or Quranic recitals for Muslims at the seat of government, are already taking over your initiative in opposition. I must commend the opposition leader, former president Mahama for copying your initiative with regards to organizing 'iftar' for Muslims, if even only for few of his already privileged acolytes.
Finally, Your Excellency, I will like to commend you for putting the economy back on track after the massive derailment of the economy by the incompetent bunch, the erstwhile regime. I'm reliably informed that the senior incompetent one has delayed announcing his running mate for the 2020 elections because he is using you as the yardstick for whoever he will nominate and no one seems to come close. There is only one "Walewale Adam Smith" in this world, and Sir, you are the only one. Rumours even have it that the family of the late Adam Smith of Scotland intend to come down to Ghana to coronate you as the modern successor of the renowned economist. I'm equally informed that they never miss any of your lectures within or outside the country. That speaks volumes about your pedigree and universal acceptance as a man who has mastered the rudiments of economics, and not just any loudmouthed student in an oversized suit trying to stand up to his professor to impress the ignorant ilk of his class. Sir, I will encourage you and the president to keep the healthy bond between you. You two are a pair made in heaven and have come far. I know the depth you people go just to fulfill your campaign promises, you especially hardly rest. It didn't come as a surprise to us last year when your doctors advised you to take some time off your busy schedules to rest. We were worried for you, not that we aren't today but we trust that you are taking good care of yourself. Mr. Vice President, if Allah wills and you become president of Ghana one day, kindly remember that a gentleman from Yunyoo in the North East region of Ghana dreamt that you became President after His Excellency President Nana Addo Dankwa Akufo-Addo's second term expired. Should that happen, and by the grace of Allah it will, keep this country as peaceful and on the ascendency as President Nana Addo president has managed to do.
Thank you, Mr. Vice President and Eidul Mubarak, to you and your wonderful family in advance.
Assalaam Mualekum.
Simon Suayam
Yunyoo, North East Region