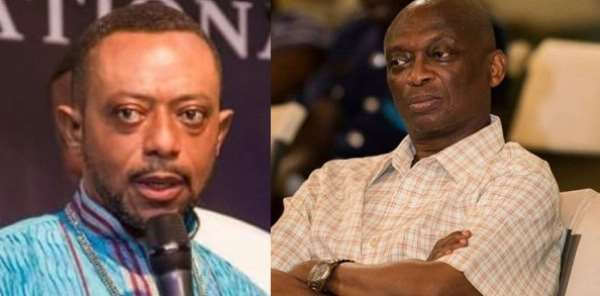 So-called Prophet Owusu Bempah and the Editor-In-Chief of the New Crusading Guide Newspaper, Kweku Baako Junior
During the Apartheid era in South Africa, Arch-Bishop Desmond Tutu believes that as a man of God, he has a duty to perform, even if that will lead him to death. Through his lifetime, he condemned Apartheid and spoke strongly against politicians, who were opposing his dreams of liberating the oppressed South Africans.
To the oppressed South Africans, Tutu was a "messiah" but to the white minority, he was a "devil," since his aim is to fight against Apartheid and bring a change in his beloved South Africa. It was this objective which placed him in a center of the political storm. He is viewed by a section of the public to belong to the pulpit, rather than politics.
As a matter of fact, a true pastor should have nothing to do with politics. Jesus made it clear to everyone to understand that his mission wasn't earthly kingdom. The Messiah knows that mixing religion with politics can be deadly as well as causing political unrest. This is one of the reasons the Pope who sits in his Holy place at the Vatican City doesn't interfere with governmental issues in Rome, Italy.
It's therefore, a bit worrying to see many Ghanaian pastors associating themselves with politicians and political parties and from every angle, it's clear that these pastors are seeking their self-interests, including wealth, thus; instead of being in the pulpit, they have become political fake prophets, often prophesying events which never take place.
I remember last year, the same Founder and Leader of Glorious Word Ministry's, Prophet Owusu Bempah, predicted that the musician Shatta Wale will lose his life in December. This prophecy generated a lot of controversies and caused much unrest in Ghana.
I, therefore, find it reasonable that as a journalist, the Editor-In-Chief of the New Crusading Guide Newspaper, Kweku Baako Junior, has the right to speak against these fake pastors calling themselves men of God, because their utterances are causing division and political unrest in the country.
After the journalist interested in peace spoke against Owusu Bempah, the pastor who claims he is a man of God is so strong to come back with the attack, calling the New Crusade Editor-in-chief, Kweku Baako Jr, an animal, and Satan. Is that what Jesus taught you Owusu Bempah? How can you even convince intelligent Ghanaians that you are a true pastor?
I can't find any tangible reason a president like Nana Akufo Addo, who wants Ghanaians to believe that he is greater or equal to Kwame Nkrumah due to his speeches, to associate himself with a person such as Owusu Bempah. If you are calling Kweku Baako an animal and Satan, then you better find a worse name for me because I am worse than him.
My father died when I was just nineteen, I was to enter into the Ghana army with one thing in mind: "to make a coup and kill all corrupt Ghanaian politicians" but the great Colonel Eninful told me to enter the sixth form since Ordinary Level certificate will not push me forward easily. That's how I gave up my dreams. Till today, I believe the Colonel saved my life else I wouldn't be living today. The political and the land issues nonsense going on in Ghana are too much.
Here I am today, married with three handsome boys. I didn't depend on any Ghanaian politician; instead, I worked very hard and invested 10,000 Euros in Ghana but because of a corrupt traditional chief like you, I lost the money.
The true God I worship has already given back the money which I lost. To me, 90% of African people who claim to be pastors or prophets are lazy people like you. If you are a true prophet, let bread rain down from the sky because thousands of Ghanaians are hungry.