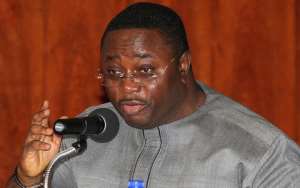 Elvis Afriyie Ankrah, Director of Elections,NDC
The Director of Elections for the largest opposition party, the National Democratic Congress (NDC), Elvis Afriyie Ankrah, has advised officials of the governing New Patriotic Party (NPP) not to feel too comfortable about winning the next elections as a result of the latest survey report by the Economic Intelligence (EIU) which has tipped them as likely winners.
He said the opposition NDC led by former President John Mahama will kick the NPP and their super incompetent members away come 2020.
"As for me, I will be very happy if the NPP will use the results of this research as the basis to claim that they are already winning the upcoming elections. As for us as a party, we know we haven't won yet so we are still working hard by moving across the length and breadth of the country to reach the electorates with our campaign messages," he observed in a comment on Accra FM on Friday.
According to Mr Afriyie Ankrah, aside the fact that the NDC is looking at the details of the EIU report to fish out the opportunities in it, it has been conducting its own surveys aimed at evaluating the performance of the party at all times in order to increase its chances towards the elections.
Elvis Afriyie Ankrah is the latest NDC stalwart to make comments on the latest report by the Economic Intelligence Unit (EIU) to the effect that the governing NPP may have a slight advantage over the NDC in the 2020 elections due to the envisaged improvement in the economy for the rest of the term of the Akufo Addo led government.
While acknowledging the fact that the Economic Intelligence Unit is a reputable research company that has a track record for correctly predicting some events, it has equally some track record of predictions which have not materialized.
He observed that results of surveys serve as a double-edged sword which presents strength and weaknesses. And that when a well-experienced person in matters of elections take such a report he may be able to make good use of it to the advantage of his party.
It is his belief that the NDC could take advantage of the weaknesses pointed out in the NPP administration in the report, such as the unfulfilled promises, the rising cost of living in the country and the issues of unemployment among others if it continues to work hard.