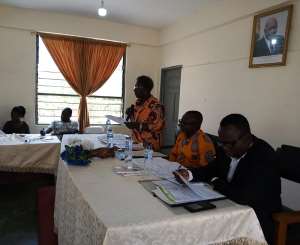 The issue of water shortage at the Koforidua Central Prisons is now a matter of history as a new 1.5hp water pump has been acquired.
The New Juaben North Municipal Chief Executive (MCE), Mrs Comfort Asante disclosed this to the media at the 3rd ordinary meeting held on Thursday, 16th May, 2019 at Effiduase.
The Koforidua Central Prisons has been in the media for lack of water supply making life unbearable to inmates even though the leadership denied its severity.
According to the MCE, the Assembly took the initiative to support the prisons with the water pump to help ease challenges that may confront inmates.
Mrs Asante on sanitation said the Assembly has put down measures to deal with perennial flooding as most drains within the municipality are being desilted to help prevent any unforeseen occurrences.
She emphasized that the Oyoko and Effiduase market refuse dumps have been evacuated with plans far advance for the evacuation of refuse dump at Sakasa as well as the mountainous Oyoko refuse dump within the shortest possible time.
"As at the end of April, 2019 a total amount of GHc268,204.25 has been collected out of a total estimated revenue of GHc311,126.64 representing 86% of our target revenue.
"Permit me to inform this august house that the Assembly has received its share of the fourth quarter allocation of the Common Fund for 2018. This is in the sum of GHc381,389.05 excluding mandatory deductions," the MCE revealed.
On the issue of security, Mrs Comfort Asante commended security agencies for ensuring peace and stability within the municipality adding, "as our municipality is reputed to be one of the most peaceful in the region".
On education, she also emphasized that construction of one 3 unit classroom block with office and store is underway at Suhyen.
She added that the Assembly has paid an amount of GHc5,860.00 for the organisation of Mock examination for 1,172 BECE candidates in the municipality.
On health, the MCE stated, "the construction of a CHPS compound and a Shed at Gyamfikrom has been completed and handed over to the Regional Director of Health which is now in use while construction of another CHPS compound at Suhyen is currently underway".