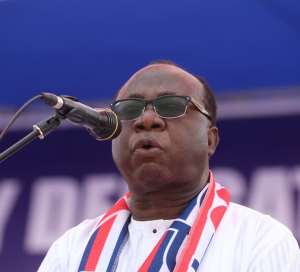 Freddie Blay
Subpoenas (pronounced sah-peenuhs) rarely get lost in transit because issuers are often dead sure about where and who they're delivering to.
But it seems Ghanaians are waking up today to the news that perhaps the nation's first high-profile subpoena to a political heavy-weight is either gone missing or hijacked.
CHRAJ says it served the National Chairman of the governing NPP, Freddie Blay a subpoena two months ago (sometime in March) but the politician has failed to respond.
However, that news comes as surprise to the spokesperson for the NPP high-ranking member.
"What you're putting out is news to me and obviously strange to Mr. Blay because at no point in time has he been served any subpoena from CHRAJ," says Richard Nyamah.
He explains that neither he nor Mr. Blay is aware of the subpoena. Mr. Nyamah doesn't end it there. He's instructed his interviewer to enquire from CHRAJ when his Boss was served as well as provide some evidence to ascertain the validity of that claim.
Reminds me of this side-splitting folkloric story: It goes like this-- "Eson Ananse a onwene kente, ena eson Ananse Kapenta."
To wit, Ananse the Kente Weaver isn't the same as Ananse the Carpenter.
DASRAMITI! So where are we heading now? First, let's take a look at its operations. But before we do that: What's subpoena? It's court-ordered command that basically requires one to do something such as testifying or present information that may help support the facts that are at issue in proceeding case. It can also request one to appear in court or other legal proceedings.
The Methods or Ways Once a subpoena is issued, it may be served on an individual or in any of the following ways:-
Hand-delivered (also known as personal delivery method.,
Emailed to the known e-mail address of the individual (receipt acknowledgement request) and three served through certified mail to the last known address (return receipt requested).
So which one of the above methods did CHRAJ use to serve Mr. Blay?
Was it hand-delivered to a known individual mailed or emailed?
The burden of proof is on the Adjudicative Commission and the earlier they prove that the better. As the issue stands now it's CHRAJ's word against Blay and his lawyers' word.
And I think it does the public no good, especially when we all want to see accountability on the part of our public officials.
Where does this lead us to? According to the Commission on Human Rights and Administrative Justice (CHRAJ), it will file a contempt case against Mr. Blay for failing to honour the supposed subpoena it served him
Contempt? It's when one refuses to produce documents or appears in court. The individual could be cited for criminal or civil contempt of court charges. For instance, civil contempt occurs when one knowingly fails to produce documents requested. Whereas criminal contempt generally refers to disruptive conduct or disrespectful behaviour at court. The individual could be fined, face imprisonment or both.
What triggered all this? CHRAJ have been investigating allegations of corruption against Freddie in the purchase of 275 buses for the Elephant in the lead up to the party's National Delegates' Conference contest in 2018, following a petition from the Coalition for Social Justice.
However, Mr. Blay has discounted the claims that the buses were procured to influence delegates ahead of the NPP's the Conference that took place in Koforidua.
Later, he said the party secured a bank facility to purchase the buses which he claims will be managed transport company STC.
Did the Coalition buy that? No, it didn't. Instead, it filed a petition which stated that the purchase of the buses amounted to vote buying and a case of corruption which must be probed by CHRAJ.
Upon investigating the case CHRAJ wrote to Mr. Blay and requested a response to the substance of the petition against him.
The Commission also asked the NPP party chair to produce the custom declarations forms and other forms covering duties paid for the vehicles.
CHRAJ believes this information could help the respected commission to proceed with the probe which is standard procedure. Paradoxically CHRAJ notes neither Mr Blay nor his lawyers have responded to their request.
Reaction from Blay's Camp On Wednesday 15 April, Mr. Richard Nyamah spokesperson for Mr Blay appeared smack-bogged when the subpoena issue was raised.
In an interview with Joy News' Evans Mensah on Top Story. Mr. Nyarmah said no subpoena had been received from CHRAJ.
He stressed there was no way, Mr Blay would receive a summon and not respond to it appropriately,, adding CHRAJ may need to prove that the Chairman was served a subpoena but refused to respond to it.
"What you're putting out is news to me and obviously strange to Mr Blay because at no point in time has he been served any subpoena from CHRAJ.
"Find out from CHRAJ when he was served and the evidence to show that he has been served such a petition or subpoena. We have no knowledge whatsoever of any such petition," Mr Nyamah said.
Not only does he find the turn of events surprising, he believes someone is playing "political ping pong" with Mr Blay's name.
For Mr Nyamah, the standard procedure which CHRAJ should have ensured the Chairman was properly served, once that was done, evidence to that effect will be available.
"If they have sent any such subpoena, I will beg them to give us some evidence to that effect. Mr Blay is not aware of this and this is the first time we are hearing of this," he said.
Very interesting development isn't it? Barely two weeks ago, the CID invited Mr. Samuel Ofosu Ampofo NDC National Chairman for questioning, regarding a leaked tape that surfaced in the aftermath of the Ayawaso West Wuogon by-election.
The opposition party swore Heaven and Earth, saying it wouldn't allow their chairman to honour the invitation.
And here we are today. Another party chair has been subpoenaed. He might even face contempt if it's proven that he knowingly refused to honour that request.
Question: Would you expect Freddie Blay to respond to the request from CHRAJ?
I think it's about time we gave our institutions the latitude to work without undermining them. What purpose would they serve, if they bark but cannot bite?