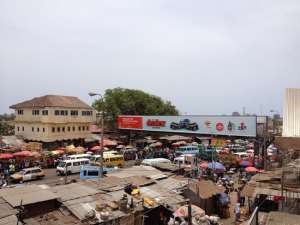 Some parts of Nima community
Residents of Nima, the most populated slum community in the Accra Metropolis says, they are not impressed by government announcement to breakdown their houses for more better and beautiful apartments.
According to the Residents, no government officials have engaged them in any form housing project, but only heard it in the media and are therefore not enthused about it.
Some of the Residents who spoke randomly to Modernghanan said, they are not aware and also not very impressed on grounds that such promises were made way back under former President John Kufuor's administration.
Alhaji Bukari, a resident who deals in plastic materials at the Nima market said he has lived in Nima for over 30years and has never had problem living there, but if the government want to build beautiful houses for them, he would first want to be assured of where he will be relocated to with his families before those flats can be built.
"I have don't have problem with Nana Akufo Addo government, but my issue is, why all the time the politicians always use Nima and Maamobi to be doing their politics, why! we are not complaining where we live, we have not applied to government to build houses for us, so why all this all that? Bukari intimated.
Another resident who identified herself as Hajia Rukiya said the government is just bragging and that nothing of that sort will happen and that even if it will happen, it wouldn't be under Akufo Addo government.
According to her, Akufo-Addo has not provided the factories he promised to Ghanaians, yet he is promising the people of Nima of flat apartments which she noted are capital intensive.
She added that even the Nima drainage which needs to be desilted, government claimed there is no money indicating that they are waiting for help from the World Bank.
Supported by another resident, Ayuba, who operates a tricycle said, he doesn't believe the government would build those housing units and release them for free.
In his view, the government might have interest for the land that they are occupying and want to use that means to claim the land.
Ayuba said, he was born and raised in Nima and still living there with his parents but only decided to rent his own place after he got married to enjoy his privacy.
Many of the residents who spoke on the condition of anonymity said they aren't impressed with the government pronouncement on the project.