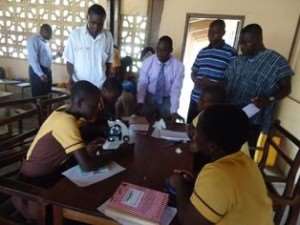 The Acting Public Relation Officer (PRO) of the National Council for Curriculum and Assessment (NaCCA), Mr. John Mensah Anan has denied that the council has asked teachers to pay an amount of sixty Ghana Cedis (GHc 60.00) as a cost of training on the new curriculum which is being implemented by the council.
According to Wordfmonline.com, teachers in the Upper east region under the Ghana education Service (GES) has been asked to the amount of GHc 60.00 for the new curriculum training.
In a letter copied to all Municipal and District directors of education by the Upper East regional director education, the amount forms part of capacity building workshop head teachers, core subject teachers for Junior High Schools, Primary and KG teachers.
In an Interview with SPACE FM SUNYANI, Mr. Mensah Anan said the teacher is constant variable in the implementation and realization of the objective of any curriculum in the world.
He said, once you put some things as impediments in their way, definitely your curriculum will be shot down, because if you ask the teachers to come and pay before they are trained, they will say, well we don't have money and they wouldn't come to be trained.
The Acting PRO of NaCCA said this is a very big lie and there is no truth in that, and the GES has also not taken it lightly and have set up some machinery to investigate the source of this particular information, and at the right time, they will make the public aware of that particular falsehood and where it came from.
On the training itself, Mr. Mensah Anan noted that the training has been organized in four categories and currently in Koforidua in the Eastern region, they are having the trainee of Master Trainers.
He said One Hundred and Fifty people are going to receive the training and they were selected from the Colleges of Education and Universities with experts of the curriculum, after which they will be deplored to their traditional ten regions and they will also train three thousand nine people who are the representatives from their districts and regional offices will send fifteen experts to be trained and when they are trained, they will also go to their respective districts and train the teachers.
Mr. Mensah Anan stated that the teachers would be trained at the cluster or the circuit level based on distance.
He said they don't want the teacher to move a long distance before being trained because time waste will also affect the quality of training that they will receive.
The assured that everything has been budgeted for and government has resolved to do all these things and no teacher is to pay anything.
CREDIT: SPACE FM SUNYANI