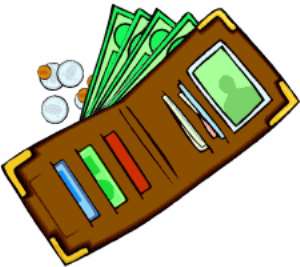 A Deputy Minister of Finance and Economic Planning, Dr Anthony Akoto-Osei, has dismissed the notion in certain circles that, the government is not doing much to put money in the pockets of the people.
He said by the adoption of prudent economic policies by government, there is enough money in the system and more people were getting money through legitimate means to undertake various ventures.
Dr Akoto-Osei cited the number of buildings being put up by Ghanaians and the expensive cars people are riding in as examples to buttress his assertion.
"If there is no money in the pockets of the people where did they get the resources to acquire such buildings and cars", he asked.
Dr Akoto-Osei stated this in an interview after a reception he organised for a cross section of New Patriotic Party (NPP) members in the Tafo-Pankrono Constituency in Kumasi, where he is the Member of Parliament (MP).
The reception was to thank the people for voting for him, in the last general election.Dr Akoto-Osei said there were positive signs for the nation in its economic drive.
He, therefore, urged Ghanaians to have confidence in the Kufuor administration.The deputy minister indicated that, foreign remittances were coming in because of the trust and confidence the NPP administration had built in the donor community.
He also stated that the revenue agencies were showing signs of improved revenue generation, which was crucial for national development.
Dr Akoto-Osei gave the assurance that the government would continue to create the necessary environment that, would make business to thrive.
He called for unity among Ghanaians irrespective of party, religious and ethic affiliation so that, together, the people could build a better Ghana for prosperity.
Addressing the function earlier, the deputy minister commended the people of the constituency for the support so far given him to perform his duties as an MP and a minister, and assured them that he would not disappoint them.
Dr Akoto-Osei urged NPP supporters and other well-meaning Ghanaians to be wary of people who were bent on putting spokes in the government's forward march to building a prosperous Ghana.
He said with the appointment of a new Chief Executive for the Kumasi Metropolitan Assembly (KMA), he was going to work in close collaboration with the KMA to accelerate the pace of development in Tafo-Pankrono.
A new community library and construction of community parks would soon be undertaken in the constituency, he said.
Dr Akoto-Osei enumerated the various construction project that had taken place in the constituency within the past year and said with unity of purpose, the area would move with great strides.